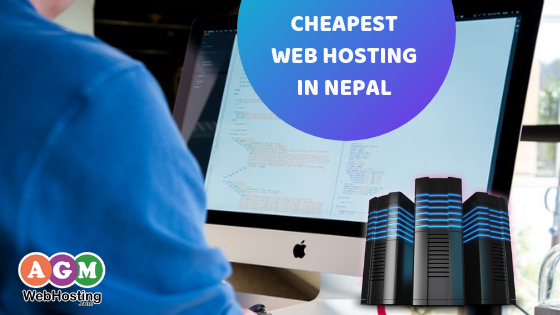 Looking for the cheapest Web Hosting in Nepal?
As we all know – people will only do business with and refer business to those people that they know, like, and trust. The same goes for you. It's little things that help you believe to the particular provider without having to taste any of their services no matter how cheap you could get from other strongly reputed companies in the market.
Also, do you know you can avail of decent and best support web hosting services at no cost? Free web hosting has its own limits but if you want to host your static website or power personal blog then it perfectly does a good job for your entry-level requirements. Moreover, don't just get wavered by the big fonts touting the deals. Instead, be make sure they offer what you are actually seeking.
Finding reliable and cheapest web hosting in Nepal isn't an easy task.
Why?
With countless web hosting service providers in Nepal, how exactly do you find the best cheap hosting provider that caters to all your needs? Reliable uptime, strong reputation, good webspace on the server and blazing fast speeds are some key essentials for cheap web hosting.
Fret not, In this guide, I will help you find the best host for your budget and share with you some of my experience with different company's services. I will also discuss why some companies offer relatively cheaper prices; while others charge more money for the same hosting.
How to find the cheapest web hosting in Nepal?
If you're willing to host your business website at the best cheap rate possible, then let me remind you one good quotation that says – do not pinch pennies that'll lose you dollars later.
Related: How to Choose Best and Cheapest Web Hosting in Nepal
Instead of running around the hosting market in Nepal for the best deals, you can just approach to AGM Web Hosting and get the best price on everything.
Isn't it amazing?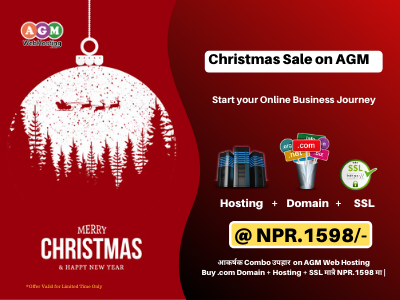 Researching the best and reliable web hosting makes sense — why you pay more than you're supposed to.
Many strongly reputed companies use industry-standard pricing that might attract you with their cheap introductory prices. However, in most cases, you're charged almost double or three times higher prices in their renewal. Therefore, before you sign up with the cheap host, it's imperative for you to inspect their renewal charges along with the value-added features they're offering.
To date, you can also avail of amazing features like Auto SSL certificate for free and free backup soft with every hosting plan you purchase from AGM. While you need to pay some extra bucks for some companies.
A big reason many hosting companies cannot offer cheap web hosting because of the limitation of their profit margin and server resources they offer. But you can trust AGM, not just for their cheap price hosts rather for their amazing customer support.
Let me remind you of our own spending habits, we don't just love to purchase services based on features or price only. Instead, we also make decisions based on whether or not we
feel a secure connection to the brand
can trust the hosts
can avail the hosting support service as expected
If you're in the startup phase of the online presence of your business, web hosting doesn't need to be any expenses that drain your bank account. You can simply pick shared or WordPress hosting that is relatively cheaper. Plus, the cheap web hosting excludes relatively costly VPS and dedicated hosting options.
What's more, impulsive purchasing based on the cheap web host plans are ill-advised. Wondering why? Because first, it is most important to consider their offerings, features and match your requirements assuring that it provides you with some room for growth.
How Cheap Web Hosting Providers offer services at Low Prices in Nepal?
Believe it or not, I often meet people who ask me the question, "how can cheap web hosting companies offer rock-bottom prices, while other charges NPR. 3000+ per month?
Here's how cheap web hosts keep the costs down:
Shared hosting. Mostly, the cheap web hosting comes with the shared hosting only. Shared web hosting usually accommodates multiple websites on a single server. Having said that, you'll share server resources with another website. Thus, any highly popular site hosted on the same server could affect your resources. On the other side, expensive hosts that usually come with the cloud, VPS and dedicated, you can have high performance and amazing service experience.
It doesn't offer value-added features much: Many web hosting comes along with the cheap price, but they compromise to offer the value that you're expecting. Only expensive hosts come with many feature-rich plans. However, you can avail of a feature-rich hosting plan offered by AGM web hosting at a much cheaper rate. The features include a backup plan, an Auto SSL certificate and many more.
Reduction of prices when purchased for a longer period: There are many companies that commit you to offer cheap or even free hosting and domain registration services if you commit to going for more than two years. Typically, you'll know the cheapest deals when you prefer to go for a few more years' purchases of the hosting plan. This way it can help you reduce the hosting purchase cost.
Price Promotions: Typically, because of the sales promotion technique, you can avail of the hosting plan at much-reduced prices. Most companies prefer to do so in order to attract more customers and increase their sales volume.
Ultimately, if you want to go with the cheap web hosting company in Nepal, kindly put some time and effort to compare the plan among these top 10 web hosting companies in Nepal generating much sense of trust in your own towards the particular brand and ensure you're getting everything that you've been promised.
Key Takeaways
Could you take one 'next best step' towards opting for the best cheapest web hosting in Nepal today?
If you're going through a tough time right now in an opting best cheap hosting provider, please look after a strongly reputed industry-standard cheapest web hosting in Nepal.
Thus, I highly recommend you put some good effort into discovering the cheapest hosting company in Nepal and you'll find a company that will take your business or brand to another level. Good luck with that!
Have a good day!