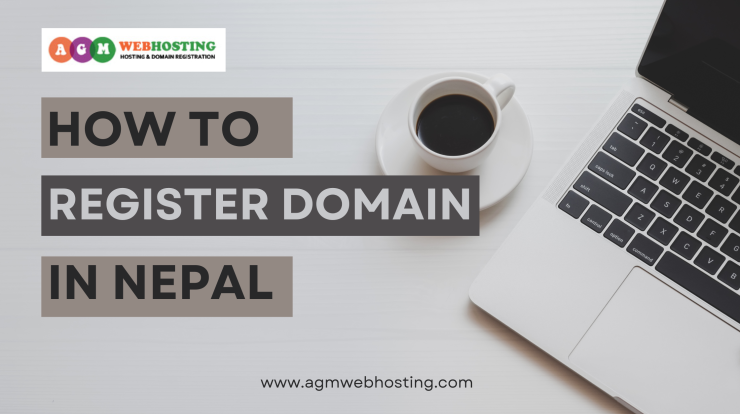 Are You Registering the Right Way?
If you're thinking of registering a domain name from home, you're in luck. The domain registration costs are relatively low. In this post, we'll walk you through all the important steps you need to take to register the domain name from home.
Finding a reliable domain registration company and registering a domain name can be stressful, especially if you are trying to register a domain name in Nepal for the first time. With many domain registrars in Nepal, you have to be careful before confirming your preferred register for your online success. If you have never registered a domain name in Nepal before, you can do so easily and quickly by following several simple steps.
Search for Domain Registrar Online. The quickest way to look for a domain registrar is online through a search engine.
One quick note: If you use AGM Web Hosting, as your domain registrar in Nepal, it will make the process of registering a domain name waaaaay easier (especially if you're a total newbie!). We strongly recommend you get started with it as the domain registration costs are relatively low! We believe that with the right domain registry, anyone has what it takes to achieve online success.
Look for discounts if there are any. You can also avail attractive discount rates on domain registration services on some of the top domain registry in Nepal. All you need to do is check active hot deals. This helps save you big.
Call the web hosting company to get a better rate. Calling the web hosting company directly can be useful as you may get to know of some amazing discounts offered by the company in no time. You may also be able to get a better sense of the customer service offered by the hosting company, as you will be able to speak to the ready-to-help representative and ask them specific questions regarding domain registration and web hosting.
Steps to buy domain name in Nepal
It usually starts with selection top domain registrar in Nepal for your domain name to get registered with an organization called ICANN.
Look for the top domain registrar in Nepal to register your domain name to whom you can trust.
Once, you're fine with the domain registrar, then look for the affordability that might help you save some money. Always try to do some research about the offers the company is offering.
Now, check the availability of the domain name to be registered. If you didn't get that name, then you're provided with several alternatives below. However, in case if you're not satisfied with the alternatives offered, you need to go with a different domain name which is not registered yet.
It is always a good idea to look for the additional features that the registrars have to provide you.
Once, you're happy with all the details, pricing, features and registrar complete the order and make the due amount for your preferred domain name to be registered.
Finally, Your domain registrar will register your domain name for you and that domain will be yours so long as you renew that domain name. It is always recommended to register your domain at least for two years in order to avoid the renewal issue.
Wondering how you can find an affordable domain registrar to register a domain name in Nepal?
Register domain names at AGM Web Hosting. Buy cheap domain names in Nepal and enjoy 24/7 customer support. With over ten thousand domains under management, you know you're in a good domain registration company to commence your online journey.
Above all else, we strive to deliver happiness through services and outstanding customer experiences. When you buy a domain name in Nepal from AGM Web Hosting, we guarantee it will be activated instantly. This guarantee is our mark of excellence. Also, we offer assured superior standards of customer service and support.
About AGM Web Hosting
Trusted worldwide, we help you provide domain and web hosting at much affordable costs online. Wherever you are, whenever you require, we help you get one from the comfort of your home within few seconds to few minutes.
At AGM Web Hosting, our purpose is to delivering WOW through services. We do that by providing exceptional customer service, resolving issues within minimum time possible, offering instant service activation and quick phone support.
Looking for cheap domain registration services in Nepal?
AGM Web Hosting best suits you.
Choose from a wide variety of domain extensions to get started with your online journey today!