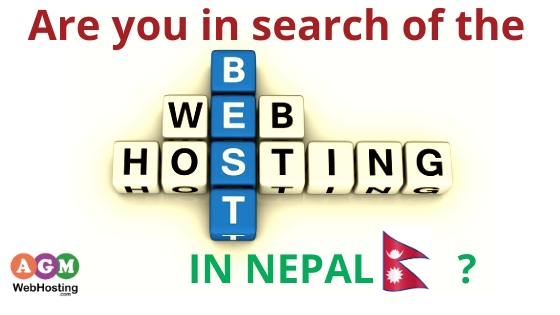 Have you ever been in search of the best web hosting in Nepal? And it is likely that you might have discovered it to be one of the most difficult task ever to carry through and you don't know why? Chances are you are overlooking some crucial features every tech individuals are hardwired to seek out in any hosting provider company. When you dig down in the market, the last thing you seek is the perfect company that best meets your requirement and helps in alleviating your pain.
So how do you identify those crucial features and master them? In this article, you will get to know about the best features that you need to seek for before opting best web hosting in Nepal. Choosing the best hosting provider company is best for you and your business! And I suppose it's never been easier, is it?
Features to Consider Before Opting the Best Web Hosting in Nepal
We all are familiar about the importance of Uptime, Bandwidth, Server configurations (RAM, CPU resources), reliable hosting company are always best at them (99.996% Uptime, Unlimited bandwidth). There are few unique and best features which I refer them as the beauty of any hosting provider company one can avail at no cost. These features includes backup plan, free auto SSL certificate, nice database support to continually monitor and ensure website is working at the optimum level having little or no issues.
There are a lot of things/features to consider while choosing the best Web Hosting in Nepal.
Ready to learn few features that you're not supposed to overlook? Here are seven features that will help you choose the best web hosting in Nepal and stand out your business with prosper.
Always prefer the server with Cloud-flare CDN which help improve your site's overall speed, performance, reliability and security. Does your website respond quickly? If It's slow, then it is time to think of the server with 100% SSD Drives that boosts your site's performance with blazing loading speed. Especially, fast processor is required for dynamic websites that make use of databases or server side languages PHP.
Uptime is one of the crucial feature to consider if you never want to have your website down for even single second. Website downtime is not just about losing money – there's more to it than that: it's about losing the trust of your customers and prospects alike, deviating your visitors towards competitors site. All in all, it leads to more bad results than one can ever imagine. Potential causes for website downtime are DDoS attacks, hardware failures, human error or misconfiguration, etc. Regardless of the potential causes – time is money and downtime is the huge loss of the money.
Free Auto SSL Certificate
Large and complex businesses totally rely upon SSL certificates to encrypt data and authenticate both internal and external systems and applications to ensure appropriate access without having to go through an initial business validation process. This implies that your website gets the security and SEO benefits of SSL. In addition, basic SSL isn't enough to meet all the SSL requirements, but it's better than having no SSL. What's more, SSL certificates has also become the norm throughtout the web world. Read More.
Having a data backups and recovery plan is crucial for your business to prosper without suffering from permanent data loss, massive downtime issue and worthless expenses. Many small to medium sized enterprises often feel as though it is still safer to go without backup plans which might be a huge mistake if anything worst happens to it and you do not have anything to come back to. Website backup and data recovery are the greatest insurance plan any invaluable website owner can invest in to prevent it against disaster. Everyone knows the importance of backing up your computer files, but rarely do they give any credence to website backups ensuring prevention against your hard work that you've put into your website. For more, Read Here.
No matter how good hosting service you have purchased for your website, there will be times when you need technical support the most to make your website live. Make sure, you are purchasing services from the company which is there for you to help when you need them the most. Every services has it's own limitation and it is certain that technical issues will arise during the service period. However, AGM Web Hosting will never let you down in this regard to support you and keep your website live for the web visitors mitigating the chances of their deviation to competitor's site affecting your business.
It is general that every hosting company keeps some nice reviews about them on their own sites and it's not that surprising either. What makes the difference is what you believe and what not? Always seek the real customer views on public forum, social sites and classified sites. Are they really happy with the services they've purchased from the particular hosting company? If yes, you can then taste it in your own too for your peace of mind and that wouldn't be the bad idea though.
Consistent Renewal Prices and No surprises
Most of the hosting providers attempt to attract you with great promotional offer prices for the first year only. However, you might be surprised when you see their renewal prices. Thus, always try to seek the web hosting company that has stable renewal price too. Therefore, make sure before choosing any hosting plan you look into renewal price ensuring you are in good hands with consistent renewal price and is very rare in the hosting industry as well.
Also View: How to buy domain in Nepal
Key Takeaways
I believe you now have understood all the basic features that you need to seek for in any hosting provider company for you can grow your business successfully. Reliability is also one of the most important feature to take account of. Wish you all the best for your business! Still, if you think there needs to be mentioned some other features as well when choosing best web hosting in Nepal. Do let us know in the comments. We'll be happy to hear from you!
Have a great day!