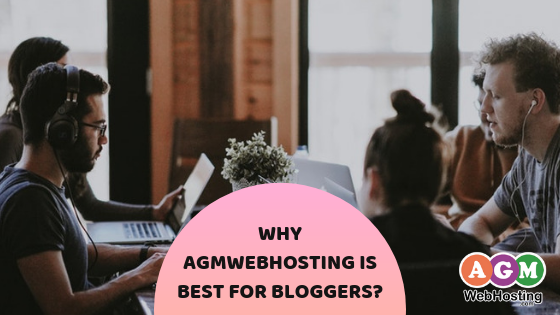 Believe it or not, people frequently tend to ask me this question – which is the best web hosting in Nepal? And also I believe if you're about to commence self-hosted blogging journey, you'll probably love to know the answer too: Which hosting company provides the best web hosting in Nepal?
I've some good news and some bad news.
The bad news is that opting any cheap hosting company isn't going to help you get necessary tools to secure and speed up your WordPress blog. It might be just for publicity-seeking gimmicks purpose.
The good news is that AGM Web Hosting makes it dead simple to host your blog and isolates you from pitfalls of high prices, skimpy features, and hidden price spikes. So even if you're a beginner to WordPress blog, you can scale up your website for a higher plan with ease meeting your growing needs.
Here's a basic infographic explaining the typical path most bloggers need to consider:
If you're one of the bloggers, then it is good idea to start with shared hosting, the most economical option for hosting for visitors upto 100K. If the visitor increases, then upgrade it to the VPS and Dedicated as per the needs.
Is AGM the best hosting company for bloggers?
AGM Web Hosting is the great option with superior web hosting in Nepal that every bloggers should have on their shortlist , which offers relatively fast speeds, useful free add-ons, detailed support and easy WordPress installation features. When you check out the top web hosting companies, you'll see both positive and negative reviews for every hosting company out there – no matter how good they are. You'll even see entire sites dedicated to getting a referral commission for particular blog host company.
But the bitter truth is, you can never get the straightforward answer to these sort of questions.As blogger, we all have different hosting requirements and budget for our blogs. So, you can never get the straightforward answer to these sort of questions: how to discover which blog host to go? To put it simple, does new bloggers' needs, who is starting from scratch, match the needs and priorities to an established blogger with a larger audience? Indeed, doesn't right!
In this article, I'll be explaining what makes AGM WebHosting best for bloggers among other competitors.
Is that really best?
No, but it's way better than the alternatives in many aspects.
Now, let's dive straight into – what makes AGM stand out among the competition and best web hosting in Nepal?
AGM Web Hosting: Offers Best Web Hosting in Nepal for Bloggers(In my opinion)
As we all know, the more expensive things get, the more frustrating it gets too. You've never experienced misery until you try to optimize an unmanaged hosting server for the first time.
My advice?
If you're just starting out and have a small blog, then keep it too simple and cheap. Don't just torture yourself, just grab a cheap shared host. And with AGM's startup hosting plan you don't even need big pockets for online presence of your blog site.
Bigger Plans: Getting a VPS or Dedicated Option
If you are not an startup and already have a larger audience and several thousands of daily visitors, you may power your blog with the VPS or Cloud Hosting. AGM offers managed and unmanaged VPS and Dedicated Server. What's more, with their slashed prices, you'll only be charged a decent price for a well-performing server possessing several value added features and free add-ons. With the extreme high upsurge in traffic, your blog website may demand dedicated server for smooth functioning of the site. They also offer a range of server packages plans, so your blog can grow without having to switch hosting providers. Also regardless of the packages plan you prefer, you're equipped with:
SSD storage
SSH Root access
Simple and easy to use cPanel
Automated daily/weekly backups
Easy scalability and enhanced security
Plus, AGM Web Hosting offer tools that help you manage your blog site in an easy way:
One-click installation
Managed updates
Top-notch support team
Updated technology ensuring better site load
Enhanced Security measures
Automatic site backup with on-demand data restoration services.
Flexible Billing Cycle:
Who doesn't love to save some money?
So, here's a little hack to help you save some time and money.
If you're looking for an easy solution, doesn't have the healthier budget, and just want to get straight in and doesn't want building blogging empire, check out their startup hosting plan. With 30 days money back guarantee, you are in no risk of losing any money. Further, if your blog site grows you can upgrade and extend to whichever cycle you prefer to go with in no time. Isn't it amazing? Probably yes, right! That's why
They provide you all those useful tools and valuable features for an entire year for less than the cost of a dinner at a nice restaurant. That's why I think AGM is the best host for most newbie bloggers.
Domain Names Registration
Looking to buy domain in Nepal?
Choosing a right place for your blog to grow, you also need to choose the company that provides zero hassles registration services offering advanced DNS management panel.
Along with hosting AGM Web Hosting also makes registering Domain Names fast, simple, and yet affordable too.
Did I miss anything?
AGM Web Hosting, in my opinion, thus is highly acknowledged as leading and best web hosting in Nepal which isn't surprising. With such full featured tools and plenty of available valuable free add-ons, there's no reason to not to give it a try and deserves a trial run at least.
Yet, if you need more than just web hosting, go with it as they've helped me and many bloggers like me to grow in a way I could have hardly imagined.
Moreover, bloggers at their startup phase will avail exclusive benefits making their hosting experience even more great. Even if you're already have a larger audience, with painless migration and no apparent drawbacks service provider on hand, you'll find it more appealing.
Ultimately, who you opt will depend on your hosting needs and your budget too. You'll find positive and negative reviews for every host provider out there – no matter how good they're. That's why we've given you:
the info to help you make better decision assessing your needs
recommendations based on my own and several bloggers experiences
Hope it helps you make your blog hosting dream come true with an amazing experience provider picking the best web hosting in Nepal.
That said, I would love to hear your own experiences with different hosting companies. Feel free to share them in comments.