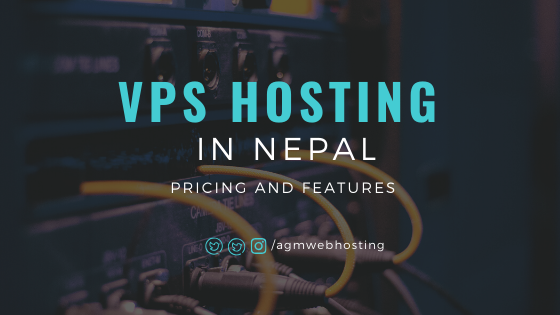 Do you want to host your heavy news portal website, large eCommerce Website with the best VPS hosting in Nepal the right way? We know that starting with any hosting provider can be a terrifying job especially when you are not that tech-geeky. Guess what – you are not alone. Having helped over hundreds of thousands of users set up the VPS correctly, we've decided to share the most comprehensive guide on how to start with the VPS hosting no matter whether you are a newbie without any technical knowledge or an expert.
Today, we're going to walk you through everything about the VPS server in the simplest way possible.
Without further ado, let's get started!
First thing first, what VPS hosting actually is.
What is VPS Hosting?
Virtual Private Server(VPS) is an intangible version of one single physical server that hosts several websites providing the user experience of an isolated server. With VPS, each individual server gets its own server resources such as CPU, RAM etc with complete Root Access ensuring privacy and better security.
Does Speed Matters With Different Hosting?
Generally, your page load speed relates to a few different factors including memory and bandwidth usage of the server resources. There are basically three servers namely shared, VPS and Dedicated. If you are using a hosting plan from the shared server resources, then you have to split the resources among various other sites that are stored on your host's server. In such cases, if there is large traffic on a website, then this may monopolize the server resources ensuring other site downtimes. Having said that, it means this can drive visitors away. In order to prevent this, VPS might best help you.
VPS hosting actually means that your site will still be hosted on the shared environment. However, in the case of the VPS server, the server will be partitioned into multiple virtual machines as if each behaving independently dedicated server. You will have root access and your own designated server resources. It means you won't have to share your server resources to other websites. You get this starting at just NPR.1999/month without having to pay huge sum of money for your own server, an expense that could run you over NPR.14400 per month.
Setting up a VPS
In order to set up a VPS, there are mainly two ways:
Execution of Module Commands
Manual Setting
Usually, you'll prefer interacting with your VPS using the module command lines, the more efficient route to manual setting using Graphical User Interface. However, this can be intimidating if you're a newbie and don't know how to use simple commands, fret not but you can easily get used to it by simply doing Google for the commands and following related tutorials. Once, you will learn about these setup, this will teach you a lot about the server management that can come in handy as your site traffic increases.
VPS HOSTING IN NEPAL – STARTING PRICES FROM JUST NPR.1999 PER MONTH
Our VPS hosting in nepal packages are billed monthly and can be upgraded at any time. Your VPS needs may change over time as your site grows and demands more bandwidth data amount for efficient operation of the website. However, AGM VPS server allows you to scale up or down as per your requirement. 
Since dedicated server hosting is more expensive, VPS might be the best option meeting your needs for increased server resources. You can simply avail a range of plans namely VPS-1, VPS-2, VPS-3 and VPS-4 respectively meeting your needs to boost your site's performance with extra value added features.
Shared hosting best fits for sites will low traffic, CPU consumption and lenient security requirement whereas VPS is well-suited for the organizations with high traffic per month and popular blogs. Our competitively priced VPS hosting in Nepal plans provides an optimal middle ground offering the performance of a dedicated server in the price range of a shared server.
VPS Server Pricing in Nepal: How much does VPS Server Cost?
Find out about the VPS server pricing in Nepal and it's unparalleled benefits with AGM Web Hosting, to help your site to run with better performance and security.
The value AGM VPS provides for its current prices are simply matchless with any other brand or competitors offering the similar services plan. It also provides managed and unmanaged support level service to help you with everything you need. The pricing structure is fairly simple, attractive and yet affordable:
VPS-1 PLAN – NPR.1299/month
VPS-2 PLAN – NPR.2599/month
VPS-3 PLAN – NPR.5799/month
VPS-4 PLAN – NPR.8999/month
| | | | |
| --- | --- | --- | --- |
| | VPS ServerVPS-1 PLAN | VPS ServerVPS-2 PLAN | VPS ServerVPS-3 PLAN |
| Price(NPR) | 1299/month | 2599/month | 5799/month |
| CPU | CPU-2 | CPU-2 | CPU-3 |
| RAM Memory | 2GB | 4GB | 6GB |
| SSD Disk Space | 20GB | 40GB | 80GB |
| Root Access | Yes | Yes | Yes |
Final Thoughts
With this, we have come to an end of this guide regarding VPS server hosting in Nepal. Also, in this guide I believe you have learned something interesting about what VPS hosting actually is, it's benefits and features, VPS Pricing in Nepal. Yet, if you have any queries regarding VPS server. Ask away in the comment below and I'll be happy to reply!