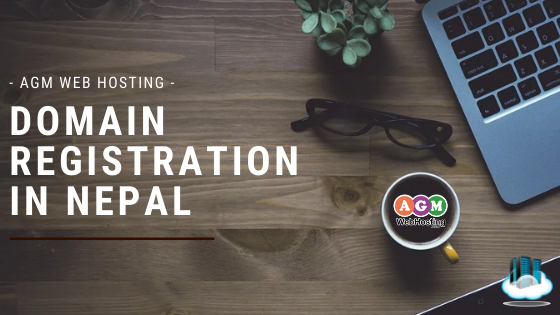 How to Register Domain Name in Nepal?
Anyone who has already tried starting a blog or getting their business online knows how to register a domain name in Nepal. But for those who are just beginner find it more difficult even to get started.
If you' re one, who is wondering to register domain name, today you can register from your own following these simple 6 steps guide.
Registering a domain name simply involves registering your domain name with ICANN via a reputed domain name registrar in Nepal. For example, if your domain name is something.com, you need to pick any reliable yet affordable domain registrar, pay registration fee associated with your chosen domain names that costs around NPR.110 to NPR.5000. It usually costs NPR.999 for .COM Domain Registration, if your domain registrar is AGM WEB HOSTING.
To start, here's an infographic explaining the typical path one should follow in order to register the domain name in Nepal: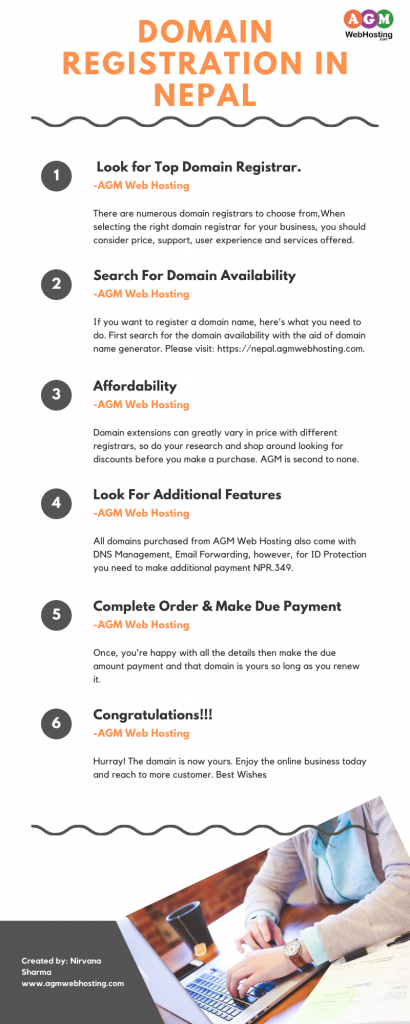 It usually starts with selection top domain registrar in Nepal for your domain name to get registered with an organization called ICANN.
Look for the top domain registrar in Nepal to register your domain name to whom you can trust.
Once, you're fine with the domain registrar, then look for the affordability that might help you save some money. Always try to do some research about the offers the company is offering.
Now, check the availability of the domain name to be registered. If you didn't get that name, then you're provided with several alternatives below. However, in case if you're not satisfied with the alternatives offered, you need to go with the different domain name which is not registered yet.
It is always a good idea to look for the additional features that the registrars have to provide you.
Once, you're happy with all the details, pricing, features and registrar complete the order and make the due amount for your preferred domain name to be registered.
Finally, Your domain registrar will register your domain name for you and that domain will be yours so long as you renew that domain name. It is always recommended to register your domain at least for two years in order to avoid the renewal issue.
Wondering how you can find an affordable domain registrar to register a domain name?
Here's the short answer:
TLDR: The Best Domain Registration in Nepal Right Now (In My Opinion)
If you're registering a domain names for the first year, you'll get affordable prices for any top-level domain names because of the promotional price. However, the renewal always is higher than the registration price. Always try to grab a cheap domain registrar with which you can grow as the visitors to your site grows later. Most domain registrar may also offer the same domain at much expensive price, thus try to find the difference which might help you save big.
Is AGM Web Hosting is the best reliable domain provider in Nepal?
Yes, it's way better than the competitors in all factors such as price affordability, domain availability, customer support.
Also Read: What makes AGM Web Hosting So Different?
Key TakeAways
Want to register domain name on your own? Want to find the perfect domain registrar to register your domain? You have to get started somewhere. Also, Don't forget to try AGM Web Hosting in a new way.
Your previous domain registrar may be nice and cozy, but if you never branch out, you're never going to grow your business online. Try registering today following these basic steps mentioned in this post.
Also Check: Top Web Hosting Company in Nepal
Please share if you find of any help!