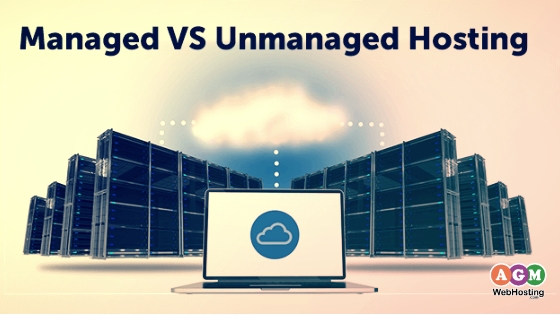 Often times, we might overlook the features that are crucial for the web host management considering cost factors alone and this way opting wrong plan could become costly in the long run. Also, most of us begin hosting the websites on shared servers, which basically fulfills needs of an individual, small to medium sized businesses, right? So, we might not have usually come across the management of the hosting system at all. So, when do we come across it? Well, we come across it when we look for VPS and Dedicated Server Hosting plan.
So, why do I need to consider managed hosting and unmanaged hosting? It's only going to charge me more money. Nothing more than that.
Wait! Let's understand the same thing this way, if you are making your decision based on the cost factor alone and you choose to pick the unmanaged hosting. What if your poor choice of hosting plan may insist you to throw a lot of money for maintenance in future? Thus, before making any rush decisions consider those things that really help you feel more content in the long run as because you have picked wise decisions. Who wouldn't love to save money? What could be the better feeling than saving money in the long run by your one wise decision? Now, I believe you got some rough idea about the importance of managed hosting over unmanaged hosting. Without any further delay, let's explore what managed hosting and unmanaged hosting means in more detail.
What is Managed Hosting?
As the name implies, managed hosting refers to the hosting plans administered by the hosting service provider offering support for emergency or routine tasks for the servers owned or started by the user. In addition, managed hosting usually comes with automated backups, malware scanning and removal, status monitoring, security sweeps and more. Moreover, hosting plan is generally made up of a number of different components. The most basic component consists server hardware, operating system(s) and other applications. These all or most of them are usually managed in some way or the other. The server usually has an operating system installed and various kinds of software used for running websites.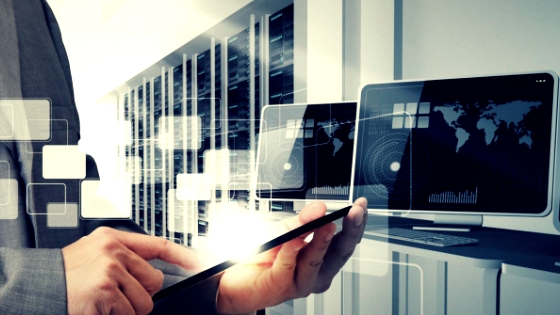 Managed hosting simply refers to the hosting plan that comes with a number of additional services. It's usually the service providers who are responsible for –
the deployment and configuration of the infrastructure,
the installation of the software applications,
the provision of technical support,
the supervision and management of the resources,
detecting and fixing technical issues that may occur and
the installation of updates.
In Web Hosting Market, the managed hosting packages price vary from $21/month to over hundreds of dollars per month. The low end managed hosting plan generally employs VPS server plan while the high end managed hosting plan is often an upgraded version of a Dedicated Hosting plan. Since, the price range is great, it is crucial to comprehend what services and features you should expect from these managed hosting plans.
Benefits of Managed Hosting
Experts Support: As you know simply the higher the price, the more is the technical support. That way with managed hosting you are assisted with professional web experts regarding hardware, databases, mail systems and frameworks issues for the website maintenance.
Saving of money and resources: Although managed hosting plans seems more costly than shared hosting plans at first sight, it saves a great deal of time, money and other resources on maintaining your website in the long run.
Reduction in operational costs: Aside from that, because tech savvy professionals will be performing the required tasks related to server management, you can be assured that everything will be fine and you won't have to lose any further money regarding server issues.
Enhances business growth: That savings of time, money and resources acquired definitely help grow your business and outperform the competitors too.
Ensures smooth server operation: It also provides quality data center infrastructure ensuring your servers are up and running with lower latency and higher network reliability.
What is Unmanaged Hosting?
An Unmanaged Hosting, as it name implies is a hosting plan, is a hosting plan with little or no additional services or features. With this hosting service, hosting company sets up the server, installs the OS, replaces failed components, reboot servers, maintain proper network connectivity and keep the lights on, then the control of the server is assigned to the user, who configures the softwares required to set up and run the server. It is usually preferred by the tech-savvy individual and business professionals. In this case, the full responsibility will be of user to identify and fix the errors in the software and keep the software up-to-date as well.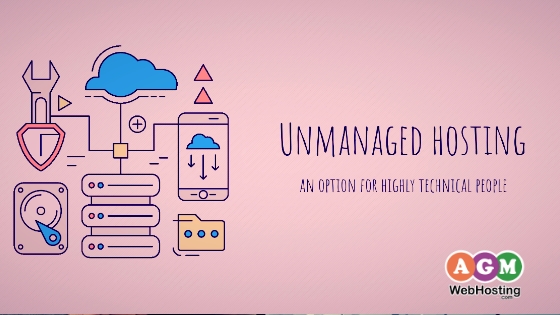 Unmanaged hosting is cheaper because there's little or no management on your server – i.e. no routine support. If you want something done, you have to do it by yourself. It's all your responsibility to maintain, control, install security patches, fix weird error messages and in addition, you're responsible for installing everything except the servers' OS. Many hosting company won't even provide a control panel or web server software: it's up to you to perform management tasks.
Disadvantages of Unmanaged Hosting:
No or little management: If you choose to sign up for unmanaged hosting, the hosting company installs the OS and may replace some of the failed components. However, all other tasks management tasks need to be performed by the user himself and should install security patches and further should have to identify errors and fix it in own.
Seemingly cheap: If you are signing up for unmanaged hosting, it is likely that you may be paying little money in beginning but you will definitely be getting more to do in return. The hosting company may charge you on an hourly rate for basic support too. Be careful, it may be very expensive and will possibly wipe out all the savings you made on choosing cheaper plan.
Decreased productivity: Downtime can an unpleasant consequences when choosing to go with unmanaged hosting plan. You probably lack 24/7 technical assistance thereby causing loss of productive time, which can make customer discontent with the service and thus reduces net profits.
Security concern: For any business to flourish the security measures play a vital role to more extent. If you choose to go with the cheaper hosting plan with unmanaged hosting services, you're probably lacking access to all firewall protection services that protects your information from being stolen by the online criminals, hackers and malware viruses. However, managed hosting solution ensures scheduled backups of the data ensuring safeguard of the information and make it available in minimum possible time, too.
Final thoughts
When it comes to hosting, think of the management as planned support. Most businesses in their start up phase seeks for web hosting that offer the most services at the most reasonable price. However, you must ensure that when opting hosting plan, price alone should  not be the only determining factor that might ruin the quality of service and reliability of business growth in the long run saving money, time and other resources. So, if you want to optimize business continuity, it is wise to stay away for unmanaged hosting plan.