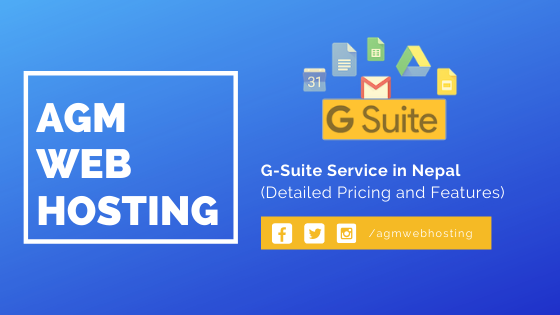 G-Suite Service in Nepal enables the business to operate more efficiently driving a sharp rise in the speed and performance of the business and organizations. Plus, Business Email Solutions(G Suite Solutions) holds a lot of importance and is used for various purposes from internal communication to email marketing. Today, more than 70% of businesses are making use of Gsuite services on a weekly, monthly and quarterly basis to increase the sale conversion.

In no way, you can delay it now as competition is huge today in the market and it's been really tough to find sustainable traction in the market. You may have also noticed that many businesses have already started doing SMS campaigning, instant messaging and use social media platform for promotion purpose, Gsuite services seem to have lost its sheen. But, Business emails are still the most popular channel of communications and make your brand more professional.
What is G Suite Services?
G Suite service is a collection of enterprise-based products—like Gmail, Docs, Sheets, Slides, Calendar, Drive, Sites, and so on—offered by Google via a monthly subscription platform for your business. In addition, G Suite services allows you to have your own brand's Gmail accounts on your preferred domain name with 30GB of Google Drive storage per user. (example: customercare@agmwebhosting.com).
This way you are not only looking professional but also you're representing your brand name with your clients or vendors when you're at any business meet up tending to exchange your business/visiting cards. The non-professional businesses might be able to get away with free Email Account solutions, however, professional businesses cannot escape the need of Gsuite Services. Once, you hire the number of employees to help streamline your organization or business, you will need accounts that can be managed separately and efficiently.
Get Started with G Suite Service Now!!!
GSuite Pricing in Nepal: How much does G Suite Cost?
Typically, Google's GSuite Service has been used by thousands of businesses all over Nepal, including us as to enable collaboration, boost productivity and reduce costs. Not to mention other recently added features with GSuite such as Google Drive Storage, Tools such as Google docs and sheets along with hangouts make it remarkable.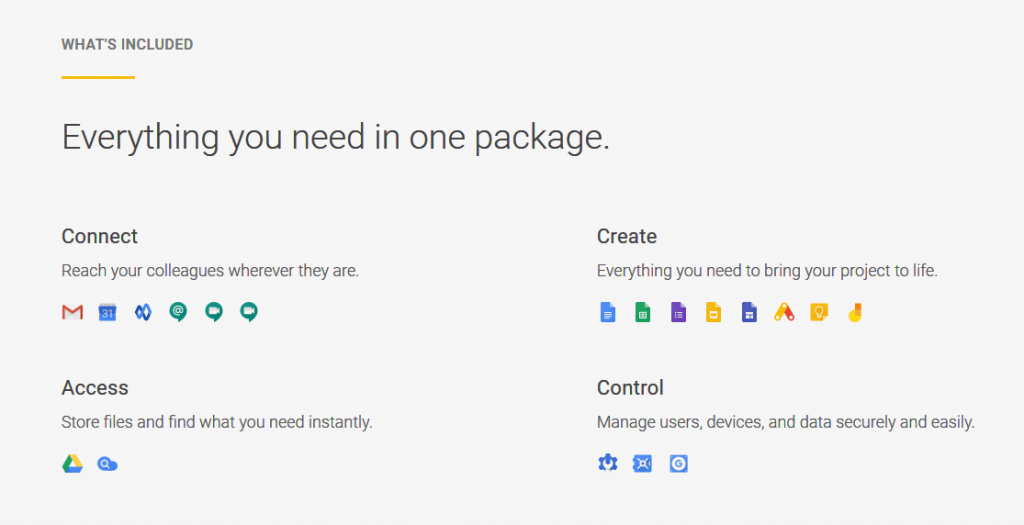 So, is it really that worth?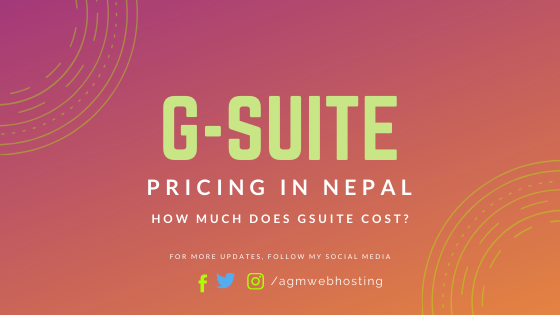 Find out as we take you through everything you need to know about the G Suite pricing in Nepal and it's unparalleled benefits, to help you make a wise decision.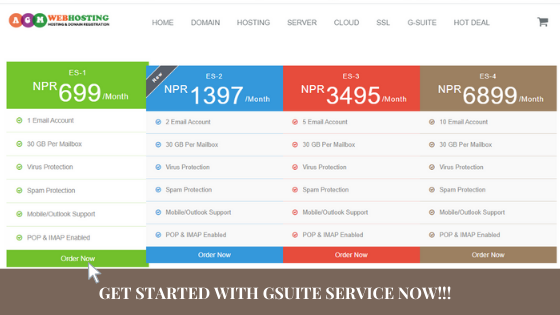 AGM Web Hosting basically offers four main plans namely ES-1, ES-2, ES-3 and ES-4 for the professional makeover of your business. The value it provides for its price is truly matchless with any other brand offering the same services. It also helps running your entire team's email, drive storage, and productivity tools out of G Suite services.
The pricing structure is fairly simple, attractive and yet affordable:
G Suite ES-1 PLAN – NPR.699/user/month
G Suite ES-2 PLAN – NPR.1397/2 user/month
G Suite ES-3 PLAN – NPR.3495/5 user/month
G Suite ES-4 PLAN – NPR.6899/10 user/month
If you want to pay by the year, you will have to simply calculate your preferred plan times twelve. Having said that, for G Suite ES-1 PLAN, the annual billing will be NPR.699*12 = NPR.8388/year and likewise.
G SUITE
ES-1 PLAN
G SUITE
ES-2 PLAN
G SUITE
ES-3 PLAN
Price(NPR)
699/1user/month
1397/2user/month
3495/5user/month
Professional Email ID (using your own domain)
Yes
Yes
Yes
G Suite Products (Gmail, Drive, Docs, Sheets, Slides, Calendar, Hangouts, Forms, Sites)
Yes
Yes
Yes
File storage
30GB
30GB
30GB
24/7 support
Yes
Yes
Yes
Which G Suite Plan Should You Choose for your Business? G-Suite Service in Nepal
G Suite Plan Analysis
The ES-1 Plan would be a good option if you're a freelancer, solopreneur or small business owner who manages only one business email account. But business email(G Suite Services) is largely preferred by business owners who manage a small team (i.e. at least 2 users). For that, our ES-2 Plan might best fit.
However, if you're managing a medium-to-large sized team and you also need access to all the sharing files across teams/company without having to worry about running out of the storage space with at least 5 users to maximum 10 users, then we'd recommend G Suite ES-3 and ES-4 Plan.
Note: In case if you've more than 10 users, kindly mail us at support@agmwebhosting.com specifying all your requirements details, our ready to help representatives should quote you shortly as per the convenience.
G Suite Pricing: Final thoughts
After taking this all in, you might still be wondering, is G suite your best bet for your online business tools?
Plus, you're looking at a fairly complete suite of office productivity applications and email that delivers to the recipient's inbox rather than spam folder, plus some generous storage allowances, G Suite might be the best option for you.
As you've noticed, we're offering a range of email solutions catering to your different requirements and budgets. Also, you'll get a decent amount of value for what you're paying that is enough to comfortably conduct your business's key functions through G Suite.
Interested to try G Suite Once? Try it Now!
Also Read: Domain Registration Price in Nepal
G-Suite Pricing in Nepal : AGM Web Hosting ( Plan & Features)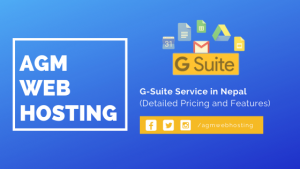 This article provides deep insights on why today, more than 70% of businesses are making use of Gsuite services on a weekly, monthly and quarterly basis to increase the sale conversion. And why you should start now?