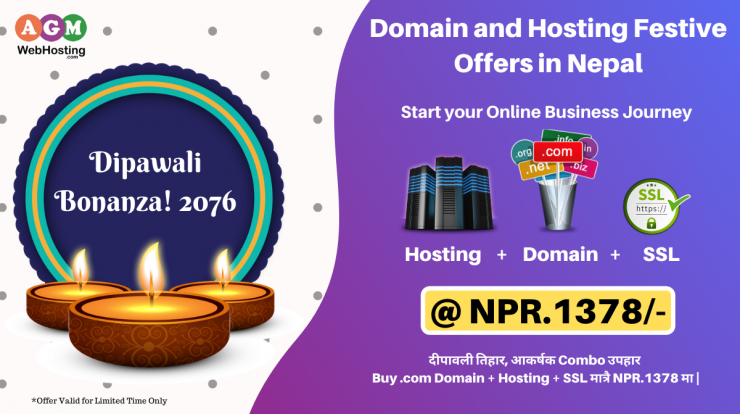 AGM Web Hosting is showering domain and hosting festive offers in Nepal.
The road to any online business success isn't easy unless you truly focus on the quality of the services you offer to your customer. Once, you are in there! From that horizon everything seems to be easy. So, how you can know whether or not you're in the same horizon which we've recently discussed? Selecting the best Web Hosting Company surely help you know the same and grow your business to the next level. Also, finding the best one is truly a daunting task for every company in the market claim to be the best service provider, right? Before taking a leap to any hosting services provider company, go through all the features, price plan and other things you might expect within the plan. So far, AGM Web Hosting Company is one of the most affordable and best featured hosting services provider company in Nepal with quality service and great customer support!
There is a beautiful quote that says we all make a living by what we get, but we make a life by what we give and so does AGM Web Hosting. Here, we believe that happy clients are our greatest assets and supporting them at every step is our soul goal. What is more, for those who are keenly interested to change their living by blogging, AGM is offering free hosting plans too, that might take you to become a thriving blogger as well. Isn't it exciting? Not only for blogger, opting right hosting solutions might help best optimize the resources for any small to medium sized businesses(SMB) to large complex eCommerce websites. In addition, we have an exciting Affiliate programs, hosting and domain registration offers so that you can grow your business without investing more money for the services that you are looking for. This year during the festive season of Dashain and Tihar, AGM are back with the exclusive deals of festive combo offer to make this Dashain and Tihar celebration more joyous for you.Take a look at what offers AGM Web Hosting has come up to make the festive season all the more festive below:
Domain and Hosting Festive Offers in Nepal
This festive season domain registration is starting at just Rs. 33 you can book hosting for a whole year and also register .asia and .in.net domains at just Rs.33 Only. What's more, for .com domain registration also it just costs Rs. 796 only. This offer will surely help you begin your business without investing more money. It is likely that you might bite your tongue for this amazing offer. Yeah, it's true what you've just read, you can avail this offer. So what are you thinking again? Just book and enjoy the services!
Save upto 50% on Hosting Plan
This Dipawali AGM offers extra 50% off on Single Domain Linux Hosting Plan. We have four different hosting plans for Single domain Linux hosting and on this great occasion, it has become super affordable with additional huge discounts. Also, you can avail the discount offer not only on the Single domain Linux Hosting, but also on Multi Domain Hosting and Reseller Hosting Plans. And the Coupon Code is AGM50 to claim the same offer and is valid only till 31st December. So, why to waste more time to avail such an exciting offer.
Happiness comes when you save some money getting quality service at low prices available exclusively at AGM Web Hosting. Get Domain + Hosting + SSL Certificate at just NPR.1378 with this years AGM Festive Combo Offer.
Read More: Why AGM Web Hosting is Unique?
Make sure to visit AGM Web Hosting's official website and do like its Facebook page so you won't miss any amazing offers and every notification about all AGM is offering. Thanks for reading!
अन्त्यमा, नेपालीहरुको महान चाड बडा दशैं, शुभ दीपावली, नेपाल सम्बत एबम छठ पर्वको पावन अवसरमा हाम्रा समस्त शुभचिन्तक, शुभेच्छुकहरुमा हार्दिक मंगलमय शुभकामना ब्यक्त गर्दछौं ।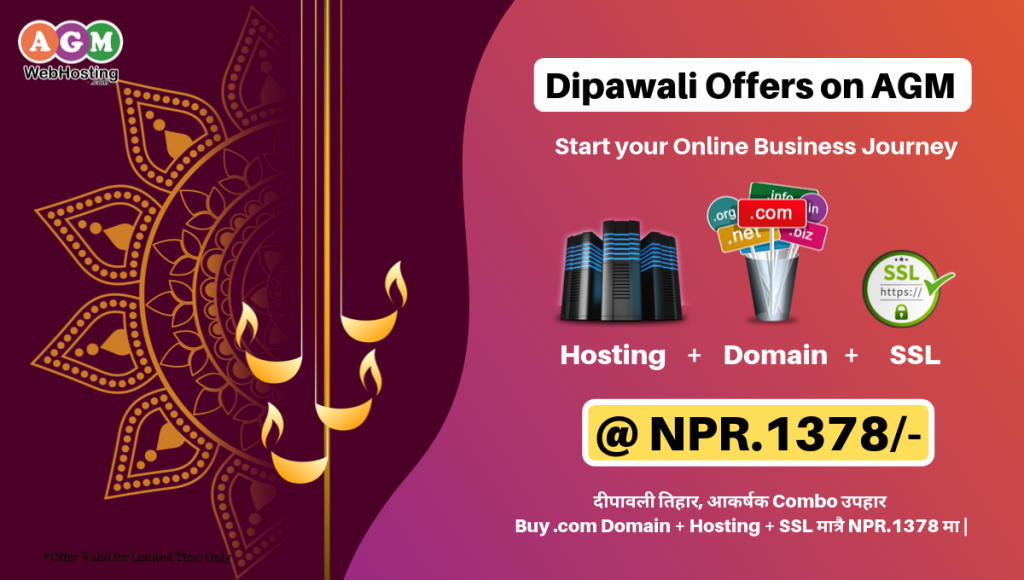 Domain and Hosting Festive Offers in Nepal - Dipawali Bonanza! 2076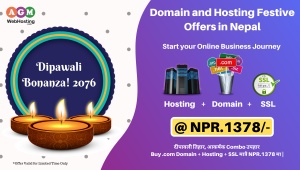 AGM Web Hosting is showering domain and hosting festive offers in Nepal.