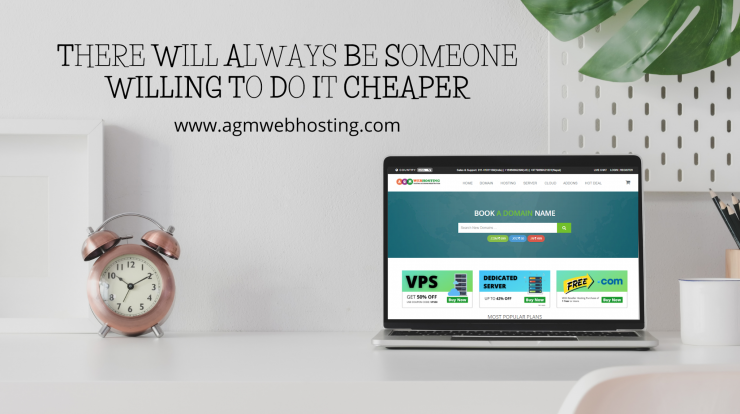 Here is a question for you – what is more important to you and your customer – getting the cheapest price or getting great service and a quality product?
There will always be someone who will be prepared to do it cheaper – FACT! Its the old adage of "You get what you pay for" or"You won't ever get something for nothing" or "Good isn't cheap, and cheaper isn't good" – there are dozens of sayings surrounding this subject and they are all very relevant to everyday purchases.
Every choice you make demonstrates of what you consider to be the most valuable services at that moment. Either it is the cheap product/service or quality product instead.
What are the potential pitfalls of going down the path of cheap?  Well, these vary from small inconveniences right the way through to issues that could lead to legal action.  Every product/service (either it be . COM domain or unlimited hosting) has costs associated with it, and sometimes those costs are cut to achieve the cheapest selling price.
In the years prior to the prevalent use of the Internet in e-commerce in Nepal, offering low-priced unlimited hosting meant being the price leader in hosting business. The Internet now offers you the ability to check your preferred companies pricing against hundreds or thousands of online retailers.
In the long run, any cost-cutting will bring things like poor quality, concealed web hosting limitations, plus it will undoubtedly put pressure on you and damage your online business reputations.
Are you running an online business and have frequent downtime issues within the hosting server, your provider ignores your phone call, takes a higher resolution time?
Then it's the time you give us a call.
Get the peace of mind that comes from relying on the respected professionals at AGM Web Hosting to provide very responsive and quick customer service ensuring your site runs all the time.

When your hosting doesn't work, your online business doesn't either.
Are you tired of the current domain and hosting provider in Nepal but don't know who you can trust to fix those issues in minimum time?
Here's why you can rely on AGM Web Hosting to take the web hosting support burden off your shoulders once and for all:
Shop with Confidence: We have been building our loyal client base since 2013 offering reasonable prices, value for the price, exceptional customer support. We want you to be completely satisfied with your service purchase. You will get a full refund within 7 days from the purchased date if they're not up to your expectation.
Seemless Buying Experience: You never work hard to communicate with us. We're offering an easy payment method for what you've ordered. Your services activated instantly so long as the invoice is marked paid.
Integrity: Doesn't matter if you're a big or small company owner. Our core values are rooted in high standards of integrity in dealing with clients and resellers. Most important to AGM Web Hosting is building a lasting relationship, built on delivering high-value solutions, excellence in customer support, and professionalism. We don't claim perfection in all we do, but we positively promise a can-do attitude with our best effort and honest work.
Responsiveness: You can connect to us via direct phone call, Email, live chat or ticket.A live person will answer your call, and emergency response time is one hour or less guaranteed. We have the latest remote support technology which lets us log in to your computers remotely to address many issues without the need to wait for a technicial to come on-site.