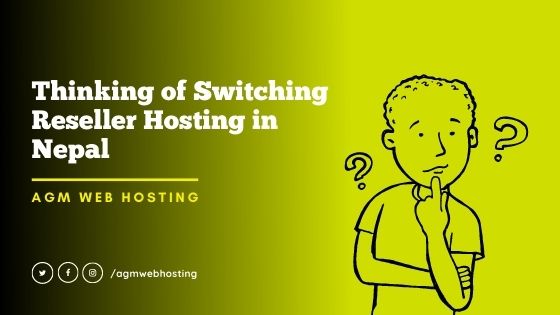 We've found that the greatest threat to us IT companies is not the well of business ideas running dry. The greatest threat to us is unhappy experience and it is our own decision of not taking a chance to rethink.
 Customers faces issues on a day-to-day basis but afraid to try out the best hosting companies in Nepal.
The self-doubt. The fear of losing more money. And, oh, the vulnerability, server downtime.
Picking right hosting partner for your IT business is hard enough with all providers promoting themselves as unlimited hosting provider on the town. But then getting server down, no phone support and maximum resolution time can even enhance your fear to switch.
When you sink into that fear of switching it debilitates you and hinders you from making the right decision to grow your online business. If you let fear hold you back, you're ensuring you never get the services that you need to. You'll never taste what excellent customer support is and you'll never be in peace of mind. All because you were too scared to make the right decision.
3 Ways to Overcome Your Fear of Shifting Hosting Companies
It's time to stop letting fear hinder your business growth and get going. Here's how:
Assess where it went wrong
For most IT companies and businesses, quite often one of the biggest concerns with a switching hosting provider is frequent server downtime. Downtime not only costs your time, loss of business but also urges you to spend more for no reason thus having poor service experience. This is something that all corporations want to avoid.
The main reason lies within the poor selection of hosting companies without reviewing customer feedback before you sign up and make contract. A single element can impact your whole business thus losing your loyal customer.
All of this however can be minimized and even avoided with proper selection and assessment of hosting companies in Nepal before joining or signing up with them.
2. Don't Get Lured by Sales gimmicks such as "Unlimited Hosting", "Unlimited Bandwidth" in Nepal
Many hosting providers come up with the cheap promotions gimmick for greedy businessmen stating they offer you unlimited storage on the server and unlimited data transfer amount to host your website for cheap price. Do remember you only get what you pay for. You need to compromise quality of hosting services, added features to it while buying cheap. It's always a good idea to seek value for money while buying hosting services in Nepal.
3. Examine customer support
Many IT companies and developers face common issues of getting site down. All their sites get impacted while one site goes down. This is mainly because of single cpanel which is hosting number of websites. You can use reseller hosting in such scenerio to make site live independently without impacting other's websites. Service providers also charges high fee while upgrading and offer poor customer support. That's why, as AGM Web Hosting is completely transparent with the process and support methods, the services they offer couldn't be any better.
We, therefore, understand your website needs and suggest accordingly so that you don't miss your past hosting provider too much and help you acclimate to the new change.
Frequently Asked Questions about Child Nameserver on Reseller Hosting in Nepal
1. Do I get Child Nameserver while I buy Reseller Hosting at AGM Web Hosting?
Absolutely, you can avail child nameserver that will be created under your brand name such as ns1.yourdomainname.com
2. Where should I contact to create Child Nameserver?
You need to contact to your domain provider to create one. However, if you've domain with us at AGM Web Hosting, in this case, we will take care for you.
3. Can I upgrade and downgrade reseller hosting accordingly?
Yeah, we offer transparent contracts with us. You can upgrade and downgrade as per your requirements.
That's a Wrap!
You can happily share your pain and previous experience with our amazing sales team and management, our team will suggest you the solutions before you think to get started with us.
If you're thinking about switching your reseller hosting provider for your IT businesses, get in touch with us and see how simple the process can be.