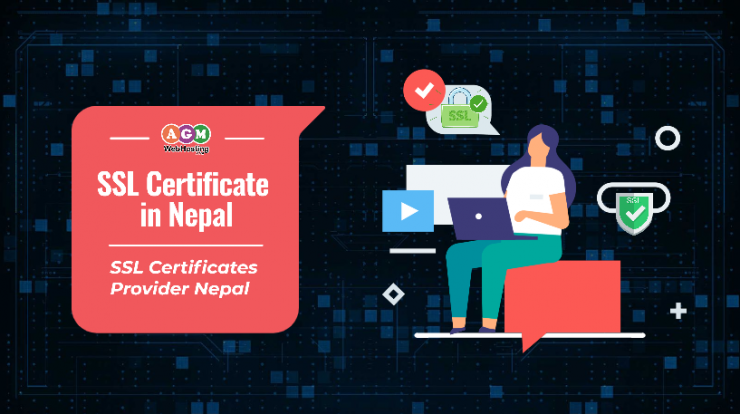 Today many service provider offers SSL Certificate in Nepal.
How can you choose the one that is reliable and offers all the features you need at much affordable price?
That's an important point to understand.
To help you quickly decide which SSL Certificate provider in Nepal is best for you and what it offers, this article will help you to comprehend fully.
What is an SSL Certificate?
SSL Certificates are fundamental to internet security that help establish an encrypted connection and allow data to be transmitted securely between a browser or user's computer and a server or website.
Establishes a secure connection user's computer browser and the server
Encrypts communication to protect sensitive data
Places green bar or padlock on the left to your web address in the browser
Authenticates the identity
Browsers have changed today, don't get left behind!
Some Key Benefits of using SSL Certificate include: locks data ensuring server-client communication protection, provides authentication to the website affirming your identity, boosts search engine rankings, gives you a trust seal that instills more trust to your site visitors, prospects or customers.
Web browsers give visual cues, such as a lock icon or a green bar, ensuring your site is secured to your web visitors. This means that your customers/visitors will trust your website and make their buy decisions.
SSL Certificate in Nepal: How much does SSL Certificate Cost?
AGM Web Hosting offers low-cost digital certificates including Positive, Rapid, Wildcard SSL to keep your website secure, boost search engine rankings, and ensure trust with customers. Not to mention it not just secures your website but also builds trust with your customers.

So, is it really that worth?
Google has mandated those websites with an SSL certificate will be deemed more trustworthy than those without SSL and will actively push such websites to rise higher in search engine rankings.
SSL Features
SSL certificates allow your website to secure its communication among the end-user and server. They can also verify your identity to users. It all depends on what you need. Here are some of the key SSL features:
Strongest & Fastest SSL
99.9% Browser Compatability
Market Leading Security
Recognised & Trusted Brand
Instant Issuance
Free Reissues
Reasons to Choose SSL Certificate in Nepal for your Website
There's also a lot more reasons why you should consider adding SSL to your website:
Here are five prominent features you will get with SSL on your website to gain user's trust.
Encrypt sensitive data
Ensures secured online transactions increasing user's confidence.
Activate HTTPS and the Green lock icon
Boosts SEO rank
Establish trust and online security
The pricing structure for SSL Certificate in Nepal is fairly simple, attractive and yet affordable:
POSITIVE SSL PLAN – NPR.2239/year
RAPID SSL PLAN – NPR.5118/year
PSSL WILDCARD SSL PLAN – NPR.12158/year
RSSL WILDCARD SSL PLAN – NPR.15998/year
Positive and Rapid SSL Certificate
Positive/Rapid SSL or Domain Validated (DV) SSL certificates cover only one domain and one sub-domain within that domain name. These certificates are well suited for individuals that own a single blog or website and are certain they will not be adding additional sub-domains. however, available for all validation levels, including EV SSL certification. These are ideally suited for individuals that own a single website and are certain they will not be adding additional sub-domains.
For example, a Positive or Rapid SSL can only cover the website www.agmwebhosting.com
PSSL WildCard and RSSL WildCard SSL Certificate
PSSL and RSSL Wildcard SSL certificates cover websites with multiple sub-domains. While purchasing the wildcard SSL, place an asterisk before the domain level to which you want to encrypt, which allows all of its sub-domain variants to automatically be covered, no matter the number of sub-domains added later.
For example, for *.agmwebhosting.com, the wildcard certificate will also cover sub-domains like blog.agmwebhosting.com, or any other subdomains.
POSITIVE
SSL PLAN
PSSL WILDCARD SSL PLAN
RSSL WILDCARD SSL PLAN
Price(NPR)
NPR.2238/year
NPR.12158/year
NPR.15998/year
Domain
Single subdomain within same primary domain
multiple subdomains within same primary domain
multiple subdomains within same primary domain
EV Certification
Yes
Yes
Yes
Encryption
Up to 256-bit
Up to 256-bit
Up to 256-bit
Issued
Within 2 days
Within 2 days
Within 2 days
Website
Personal/Blog
Business
ECommerce/Corporate
The Bottom Line
Yet, wondering why buy an SSL from SSL Certificate Provider in Nepal – AGM Web Hosting?
SSL encrypts the information sent from your user's browser to your website and authenticates your site's identity boosting users' confidence and also helps to increase ranking from an SEO point of view.
Also Read: How much does domain registration costs in Nepal?
If your website has a single sub-domain and you don't intend to add any more, you can choose positive or rapid SSL plan. However, if your website has multiple sub-domains and you want to secure all of them, PSSL and RSSL Wildcard certificate might best fit.
Buy SSL Certificate in Nepal Now!
Remember, the more your website feels secured, the more others will find value in it!
When are you going to issue an SSL Certificate on your website?  Share in the comments below. Cheers!