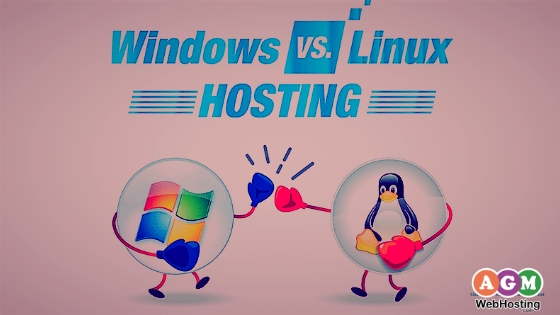 If you start seeking for an reliable and affordable hosting packages on the internet, it is more likely that you see Linux and Windows operating system pre-installed on the server. Also,
The most frequent asked question – If my PC or computer runs on Windows, then is it essential for me to go with the Windows Hosting? The obvious answer is 'No'. The type of hosting you opt has nothing to do with the type of operating system in which your PC runs.
What is more, the most common problem seen is client having troubles with distinction in between Linux and Windows Hosting server. This can happen because of the difference in operating system that runs on the server and the user interface difference might be another distinct cause in which many users might get stucked at.
Moreover, most web hosting service providers offer two kinds of hosting: Linux hosting and Windows hosting. If you are a business person and wants to understand what is the exact differences in between the most popular Linux and Window Hosting but have been struggling with the comprehension to make the right choice that best suits for your project, this post will help you discover in what respect is the Linux Hosting is in variance with Window Hosting thereby aiding you to opt wisely.
What is Linux Hosting and Window Hosting?
Linux hosting refers to an open source shared hosting utilized nowadays mainly for web hosting in the web company. the most popular hosting service in the industry. In fact, most of the websites are now hosted using Linux hosting due to its flexibility and reasonable price plan. Further, Linux hosting is also compatible with PHP and MySQL, which supports scripts such as WordPress, Zen Cart, etc. Because of the better control over the server, Linux enhances to offer different web hosting plans packages as well.
On the other hand, Windows hosting uses Windows as the servers' operating system and offers Windows-specific technologies such as ASP, .NET, Microsoft Access and Microsoft SQL server (MSSQL). Also, as windows servers are more powerful versions of their desktop OS identity and are designed for handling corporate networking, Internet and intranet hosting, databases, enterprise-scale messaging and similar functions in a more efficient way.
6 key differences in between Linux Hosting and Window Hosting Server
Without any further delay, Let's distill the six key differences between these two popular hosting servers.
One of the major distinction in between Linux and Windows Hosting Server is the operating system that runs on the server. Linux team are allowed to make choose from many GUIs(short for Graphical User Interfaces). But it is better to go with the Windows solutions in case if you want to interact with the OS itself instead of going through a Linux hosting control tool such as cPanel for files management that includes installing and updating the software, installing databases and managing your email server. For Linux Hosting server you need to comprehend all the file management tool functions to run in a smooth manner whereas for Windows hosting server you can manage in your own.
Also, there is a great misconception in regarding the security issues in between the two hosting servers. Many people consider that the Linux Servers are more secured than Windows servers. Yeah! it holds true to some extent, however, we can not fully rely on that fact as this depends more on the net web hosting provider company not on the types of hosting server being used. If it is considered true that windows server is more unsecured, then the cause for that issue maybe something like this. Windows hosting servers' working technique is most preferred by the online criminals, so it might be considered more vulnerable than Linux server in that regard only.
From the cost perspective, the Linux Hosting server is mostly preferred by the many business owner as it charges for nothing. It's open source program and web hosts use it for to offer cheaper hosting plan. In contrary, Windows hosting have to include the windows license fee and hence charges more.
So, when choosing between them, if you require shared web hosting to host your small or medium-sized business website, the Linux hosting is what you are looking for. Choose wisely being specific with your requirement!
Shared Linux hosting services come equipped with tools, such as cPanel or Confixx, that provides users a simple web interface to install micro blogging platforms, CMS, and databases. This hosting server is especially useful for beginners because of user friendliness as the features helps to remove a few of the more involved steps in server configuration and management. So, unless you design website that requires specific Windows applications, Linux is the most preferred choice because of its convenience and simplicity.
Language support and Tech involved
Linux hosting is compatible with PHP and MySQL, which supports scripts such as WordPress, Zen Cart, and phpBB. Window Hosting server supports windows-specific technologies like ASP, .NET, MS SQL, Microsoft Access etc. Thus, as windows server support many functions when it comes to language support, Windows hosting server prevail above Linux.
Last, but not the least, with Linux hosting server the file name with.html and WITH.html are different file names, while with the windows hosting server the both are the same.
Conclusion
Still, are you confused with which hosting server you need to go for your business project to run in an efficient way? Keep in mind that both the hosting server offer the equivalent proficiency. So the type of hosting service you are going to opt largely depends on what kind of technologies your proposed website requires. For instance, Linux would be a great option if you are seeking for starting a blog with WordPress and setup and online forum using PHPBB, however, in case if the website needs specific MS technologies such as MS SQL, it is better to go with the Window Hosting Server. I think it helps! Now, I believe you have understood everything regarding key differences in between Linux and Window Hosting server.