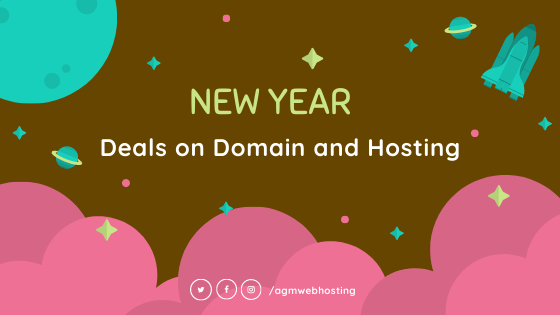 NEW YEAR, NEW BEGINNINGS!!!
Let's face it — 2021 was really a tough year but this year had a golden lining. More new customers today are buying domains and hosting online doing hard research on which hosting to trust in 2022. However, some are still worried to make shifting to better web hosting companies in Nepal.
This New Year, make a resolution to upgrade your website as the best web hosting companies in Nepal are offering you a large range of discounts in domain and hosting.
Grab a discount of Flat 20% OFF on Premium Web Hosting with a free domain name. Click here
This NEW YEAR 2022 is all about the sale and massive discounts and offers that cannot be resisted. If you have already missed grand festival offer on dashain and dipawali, here is your final chance to grab some exciting deals on domain and hosting now.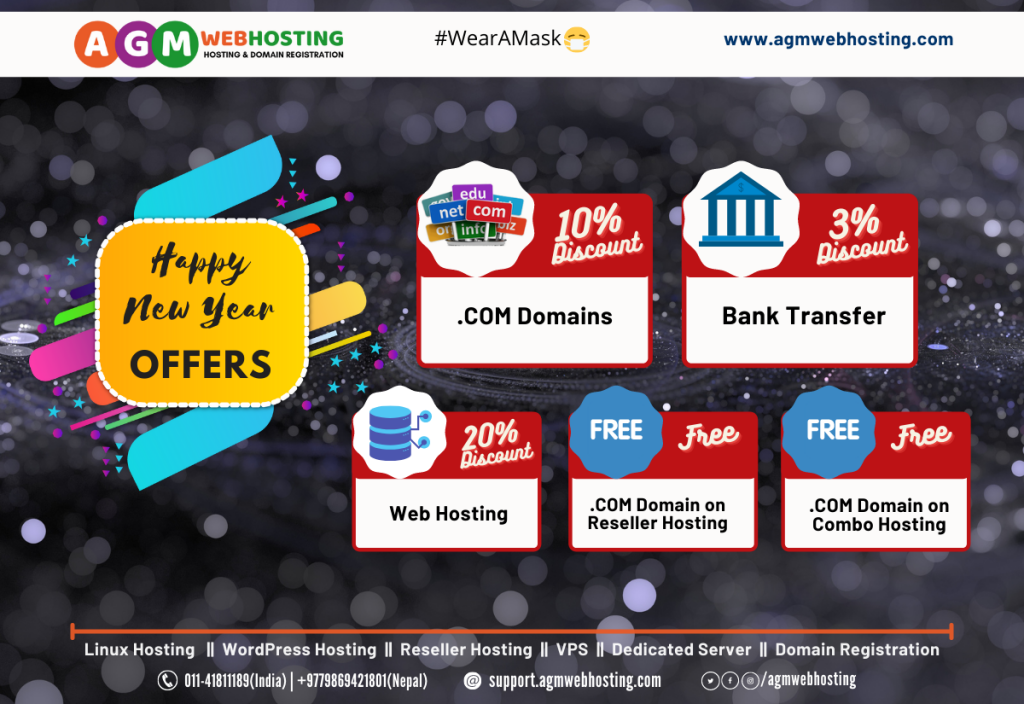 New Year Deals on Domain and Hosting | AGM Web Hosting
Domain Deals: Get .COM Domain at Just NPR.1099 only. Also, avail extra 10% OFF using coupon code: AGM10
Hosting Deals in Nepal: Get any shared and reseller hosting at a much-discounted price. Also avail extra 10% OFF using promo code: AGM10
Top Five Reasons why web hosting clients afraid to switch hosting companies
If cost, server speed, or support are causing you to seek out other internet options, remember to look into the cancellation process with your old provider before signing up with a new one. Often, internet service providers will lock you into a contract that includes early termination fees.
1. 41% are happy and loyal with their current hosting provider.
Don't be silly. Loyalty always possesses value only to those hosting provider that actually delivers the value and service which they've promised but do not make the decision based on your emotional intelligence. Upon research, we have found that many web hosting providers claim to offer unlimited web hosting at a much cheap price. Do not fall on these publicity-seeking gimmicks that might actually cost you more. Any web hosting companies aren't non-profit companies, political parties, friends, or family members, they're businesses. Don't forget that!
2. 28% didn't want to lose their data during transfer.
Often overlooked aspect is the value customers get while transferring to a quality web hosting company. They forget that their site has remained inactive or unfunctional for a long time because of their current hosting provider. Be make sure to be loyal to only those companies who are instantly there to help you at times you need them the most and offer quick reliable solutions
3. 42% feared the whole process would be "too much hassle".
While switching, many customers think that there is too much hassle associated thus costing you more costs and site remaining unfunctional. However, the experience with quality hosting provider is par the cost value. Also you can avail great customer experience having peace of mind.
Also, there are many more features coming along the way enhancing your website's speed, performance, security etc. Thus, it's always a good idea to make decision considering various factors before you make a conclusion. Also, for any business hosting clients and premium wordpress hosting clients, AGM Web Hosting offers free migration without impacting your website.
4. 25% say they haven't found a better deal.
The term "better" is a perceived factor of price for some customers. While for others, it's service quality and possibly a combination of both. You can avail many exciting deals at industry-standard leading web hosting company, AGM Web Hosting. Click here . Do not always run after a cheaper price as you might be missing some key features such as SSL, backup and genuine services with quick managed support. If you have to choose between price and quality service, kindly do some good R & D and go after quality service provider AGM Web Hosting.
5. 12% are afraid they'll suffer slower speeds with the new hosting company in Nepal
Many users fear slow site loading speed with a new hosting company as they've similar experience to the current provider. However, choosing a higher-quality web hosting provider in Nepal, upgrading your package to the high resources server, could be getting you in the way of an improvement.
Check – Buy Domain in Nepal