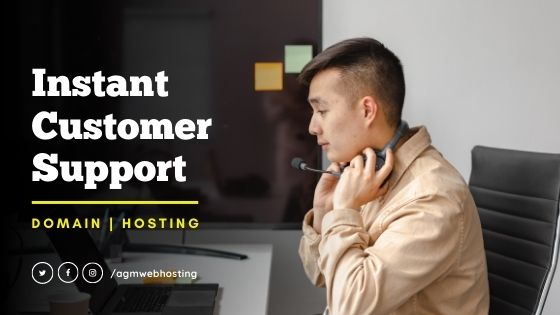 Don't Get Left Behind. Think Instant Customer Support, Think AGM Web Hosting!!!
Most importantly, offering quick customer service doesn't live in one department at AGM Web Hosting, but instead, the whole company owns it and resolves it at the earliest.
For most people, good customer support is one of these: quick phone support, minimum resolution time, higher server uptime, instant service activation, quick renewal services, immediate ticket or mail response for the assigned issues.
By taking advantage of phone support, mail, ticket, or live chat, they are able to give customers better and prompt service in the minimum possible time.
Our purpose is to WOW you activating, renewing, transferring your domain and hosting services instantly within seconds to few minutes.
It's about helping you get the most out of the domain and hosting services in Nepal, no matter how much money or time you have. We do this by offering you easy, affordable access to the dashboard to manage everything.
We strive to do all of this sustainably, so we can help you avail instant domain registration, renewal, and hosting activation services.
We offer you various popular online payment gateways: eSewa, Khalti, NIC Asia Debit Card, Imepay, ConnectIps, Bank Transfer for your billing purposes. Researching and monitoring your kind feedback enables us to invest in areas you truly value: choice, service quality, low prices, convenience, flexibility and great support service while shopping with us.
AGM Web Hosting always serves you by going the extra mile and delivering value beyond your expectation. We're fast, polite, and go above and beyond to support you.
What does good customer support look like with us?
Responding quickly: One of the greatest benefits of the choosing AGM Web Hosting is you get fast response when you're stuck with a problem.
Acting on feedback: Customer feedback has been always the best way to evaluate our success. We proactively work on your honest feedback.
Having empathy: We own your problems to resolve your problems in the minimu time possible making you feel valued and never let you feel disappointed.
Maintaining customer self-service options: When you want to find your own solutions to service problems, our youtube video, blogs tutorials, knowledgebase, blog and FAQs can be very helpful.
Providing omnichannel support: We provide flexibility in support channels. You can instantly connect with us through email, phone, live chat, and social media.
Going the extra mile: We provide great customer service trying a little harder and going above the norm whether it's over the phone, live chat, ticket in person or via email.
CONCLUSION: INSTANT CUSTOMER SUPPORT | NEPAL
You deserve only the best web hosting support nothing less because we understand you're too busy to waste your time dealing with technical complications that ruin and prevent you from pushing your online business forward.
Bad customer support leaves you confused, angry, and losing money.
Fret not, we value your money and live upto your expectations which is probably the #1 most important thing you might be looking for in any domain registrar and hosting company in Nepal.
Interested to Join us. It's NOW or NEVER. Get Started NOW!!
Read More: Buy Domain in Nepal