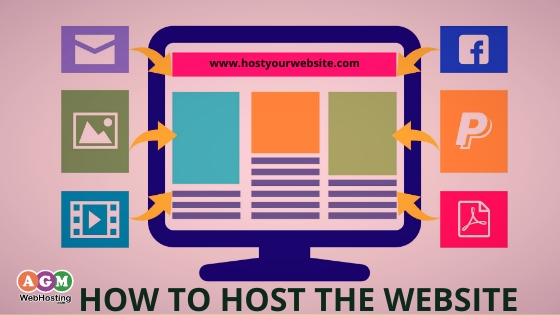 Maybe you're starting a new business, a new brand, or have an existing company or brand you're trying to make it present online? Either way, you need a website and to make it's presence online, you need hosting too. Are you wondering how to host your website? You have come to the right place. Well, there are mainly two main ways to host the website: host it on your own from home or let a reliable and professional hosting provider company do it for you. Either way, you can host your website. So, it is likely that you might be wondering of which one is the better option to go with? It is generally preferred to go with the most reliable and trustworthy hosting provider company to host the website.
In order to host any website on the server, you need to have deeper understanding on what types of website you are going to host on the server, how much disk space and what amount of bandwidth it exactly requires to operate without having any downtime issues for the estimated number of web visitors to the site.
What's more, once you have anticipated the approx. requirement of the space, now you can register the domain name as it acts as an address for your website on the server and then check for the different hosting plan whether or not it meets your requirements that are provided by the most reliable and reputed hosting company. Further, make sure it's affordable and includes nice Addon services too. The addon services offered generally include security, data backups, free auto SSL certificate, performance-enhancement, round the clock technical support, CMS etc. And finally you can upload your website to your hosting account using either cPanel's File Manager or FTP Client (such as FileZilla) – so that it is visible on the internet. Many newbies, I know are overwhelmed and struggle to identify the better hosting solution provider company to host their website in secure environment.
Let's learn how to host a website with the step by step approach in more detail.
Firstly, It is wise to decide which type of website you are willing to host on the server. Basically, there are three types of websites till date. They are static website, dynamic website and eCommerce website. Once, you're fine with the selection of the website to host on the server. It's time to switch your focus seeking the appropriate domain name for your website so that it could be easily addressed on the server by the visitors that are looking for the information on your site.
Secondly, as domain names possess huge impact on the web in terms of click-through rate, from search engine to social media outcomes, in referring links, brand ability and online advertising your business and to take it to the next level via online marketing that's why it demands a lot of thoughts and consideration and we can ignore this too. Thus, it is recommended that your domain name needs to be pronounceable, short, memorable, intuitive and brand-able. Once, you have decided the domain name for the website, you need to search for hosting server that fulfils your necessity.
Thirdly, It depends on your requirement which hosting server best fits for you. Here, first comes the shared hosting server, where you could host your website at much reasonable price and better quality too. The second one is the VPS server. It becomes essential when you want to host your website having full access about the space allocation and easy control for the website. If you're developing large and complex eCommerce website, then it is essential for you to go with the Dedicated server. It can costs hundreds of dollars per month or even more, but is typically much faster, secured and reliable in regards to uptime issues than shared hosting, VPS hosting. It is wise to opt the best hosting server keeping in mind all these facts.
Fourthly, once you finalise hosting server as per your essence, it is now time to pick up the perfect hosting solutions for the website to be hosted on the server with much more reliability and greater up-time guarantee. Always prefer the hosting company that provides you extra amazing addon services within the plan available at various packages plan. This might save your extra money that you can invest later for your business to grow more. Things to be considered when choosing any hosting solutions in general are disk space offered on the server where your website files are stored, data transfer amount(Bandwidth Space), BackUp plan availability so that you can ensure you shouldn't have to work from scratch for the space after your website has been infected or hacked by online criminals and attackers, Auto SSL Certificate, unlimited databases etc.
Last but not the least, finally you can upload your website to your hosting account using either cPanel's File Manager or FTP Client (such as FileZilla) – so that it can be viewed by the web visitors. Learn how to upload your website using cPanel File Manager and FTP Client.
Consider following Steps to Upload Your Website Using cPanel File Manager
Log in to your cPanel account.
Click on the File Manager.
Select Web Root.
.Click on GO.
Add all your files and folders under public_html directory and their respective domain folder.
How to Upload Your Website Using FTP Client
You can connect to FTP via an FTP program such as FileZilla Client, which allows you to see the files and folders on the server the exact way that you'd see them on the computer. Additionally, it allows you to drag and drop your website's files into the /public_html/ folder.
In order to connect to the web server via FileZilla, consider these steps:
Download the FileZilla software, install it on your computer and then open it
Click the File menu on the top bar, then select Site Manager
Click on the New Site and name it (for eg. with your real domain name)
Enter your domain name in the field marked with FTP Address
Enter the FTP username and password in place of username and password
Set the Port to 21 (as FTP always run on Port 21)
Finally,when ready, click Connect
Once you are connected to the server, you will see the files and folders on your computer in the Local site area and on the server in Remote site area respectively.
To upload files to your hosting account via FileZilla is just simple; all you need to is drag and drop the files and folders that you want to upload from left your local site to the right remote site i.e. your web hosting account. Now, FileZilla starts uploading and once it is finished, FileZilla log will confirm success and uploaded files and folders will be visible on the right side.
Phew! Your website is now visible on the internet.
Hopefully, I believe you now have understood all the basics that you need to host your website. If you feel you have come to know something interesting in this blog, please do let us know on the comments below. Till next time, have a great day!