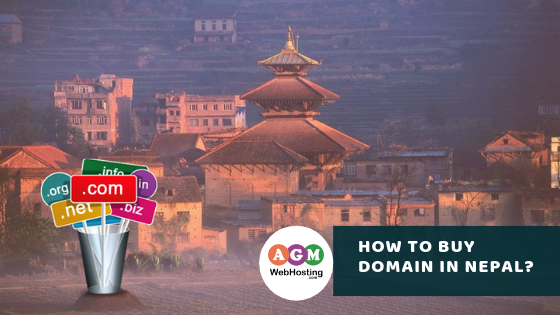 Looking for a tutorial showing you how to buy domain in Nepal, but keep finding resources that tackle every method except the one you need?
We've got your back.
In this post, we break down every conceivable way there is to buy domain in Nepal in 2021.
You'll learn how to buy domain in Nepal from industry-leading web hosting company. What's more, we will also break down domain registration procedure from popular domain registrar like AGM Web Hosting in Nepal.
You'll also learn how to see renewal prices for the domain, how prices varies from company to company, and more.
Ready?
Let's go.
So, you decided to buy a new domain.
Awesome.
Thankfully, many of the popular domain registrar offer top TLD, say .com domain at a much affordable price. You can check the prices they charge for domain registration in Nepal simply doing comparison only with the top web hosting companies in Nepal.
Looking to build a website for the presence of your business online? It all starts with a great domain name, which can be daunting if you've never done it before.
Let me remind you of one thing that you can't even get straightforward answers to basic questions like…
Which company is good to buy a domain name? Which one can you trust?
Why some charges very low cost for domain registration in Nepal; While other charges almost double?
What's the exact difference between all the different options available in the market?
It sounds weird, but listen…
If you're preferring to go with the AGM Web Hosting, there's a good chance for you to buy domain quickly as it makes registering Domain Names fast, simple and yet affordable too. They have helped even for low-tier users to own domain names and scale their website from nothing to hundreds of thousands of visitors per month. Previously, as I was not that aware regarding what exactly the domain costs for registration and because of the competitive environment in the market, I've paid more than what I need to. During that period, I gained more knowledge— often the hard way — about what actually I need to pay to buy a domain in Nepal.
And today, I'm sharing the ultimate guide I wish somebody had given me. I believe it can help you get started.
Domain Name Definition:
Domain name also referred to as web address is the part of a network address or online "real estate" that becomes the home for your personal or business site—a name that stands for website's actual Internet Protocol, or IP address, and is a friendly face for hard-to-remember unique series of numbers or numeric addresses. Several hundreds of thousands of domain names are in use around the globe and more are constantly being generated and made unique through a growing list of extensions with not just .com or .net TLD, but also more niche-specific ones such as .shop, .photo, etc. Domain Names simply help to identify websites on the server making site to be found in searches. So, what's your domain name going to be? You know, it's the [yoursitename].com internet address by which all your prospects will find you.
Read More About Domain Names and It's Types
Domain Suffix Factor:
Top-level domain (TLD) is the formal term for the domain suffix that appears at the end of a domain name. Take Web Hosting in Nepal as an example. In this, 'https:// is the protocol', 'nepal is the subdomain', 'agmwebhosting is the domain name' and '.com is the domain suffix or top level domain'. Also, the root domain consists of only domain name and top level domain. In above example, the root domain is agmwebhosting.com. Some example of TLDs are:
While we all have probably heard of TLDs above, there are other several niche specific TLDs one can choose, which includes .church, .shop, .photo, .book etc. as well as TLD associated with specific countries like .np(Nepal), .in(India) or .us(United States).
Follow the below steps to know how to buy domain in Nepal:
Without further ado, Let's dive into the process for buying domain in Nepal with AGM Web Hosting.
Go to domain registrar site: Open a web browser on your pc or android devices and navigate to a popular site nepal.agmwebhosting.com. The screen could appear something like this: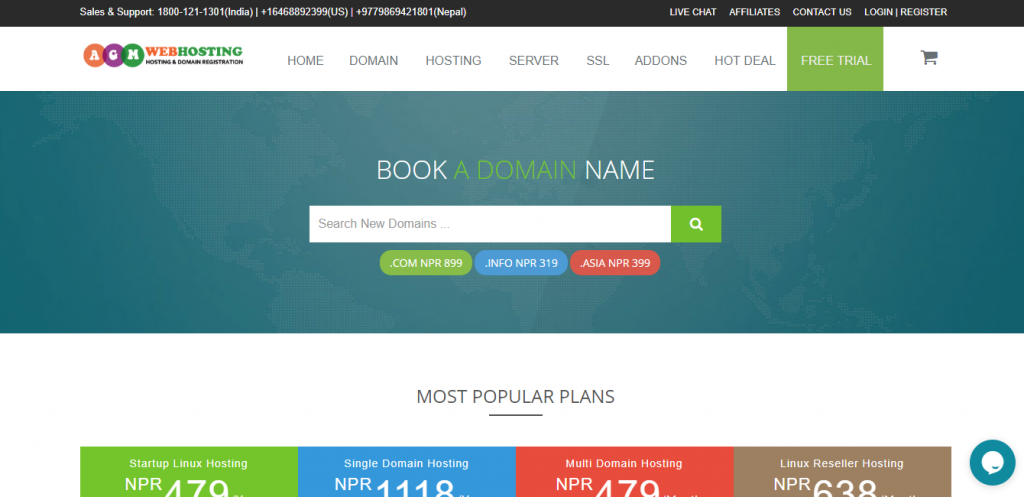 Choose the good domain name: Now choose the domain name that best fits for the nature of your website. And check for its availability with the help of search field available within the domain registration sites. If your preferred domain name is not available, then you just need to put some extra effort for opting another domain name or else you can go with different TLDs. However, it is imperative for one to keep in mind that certain suffixes are available for certain types of organizations only: such as .edu for education institutes, .org for non-profit, .gov for government sites.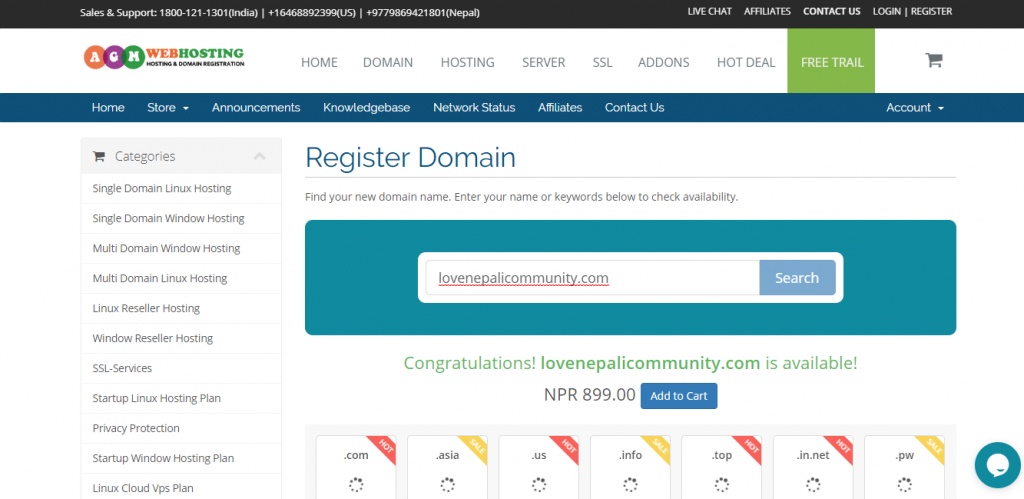 Once it is available, you can simply click on 'Add to Cart' and then 'Checkout' button.
Select available Addons in Domain Configuration: If you want to purchase domain privacy protection in order to conceal your personal information avoiding unnecessary calls, spam email messages. Though it is an optional but is highly recommended feature. If you wish not to buy domain privacy protection simply tick the remaining two boxes: DNS Management and Email Forwarding that are available for free.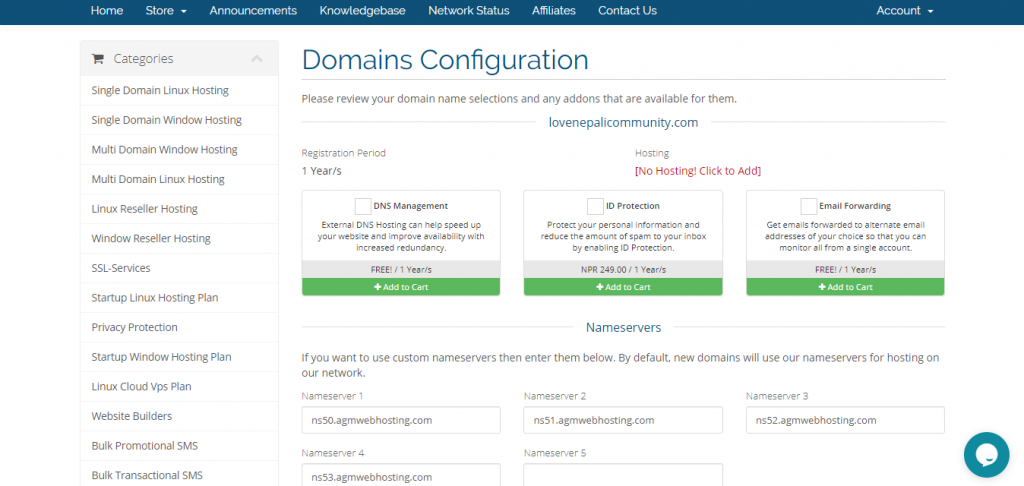 Just below the domain configuration option, you're provided with the boxes to add custom nameserver in case if you have any. Otherwise, new domains will use the company's default nameserver for hosting on their network. Once, you're done, then press 'Continue' button.
Review and Checkout Option: Often, we tend to think that, once bought, a domain name is ours forever. However, this is not necessarily the case. You own that domain forever so long as you renew it. You need to renew it in a yearly basis. Typically, you can renew it up to 10 years at a time. If you're done, then click on 'Checkout' button.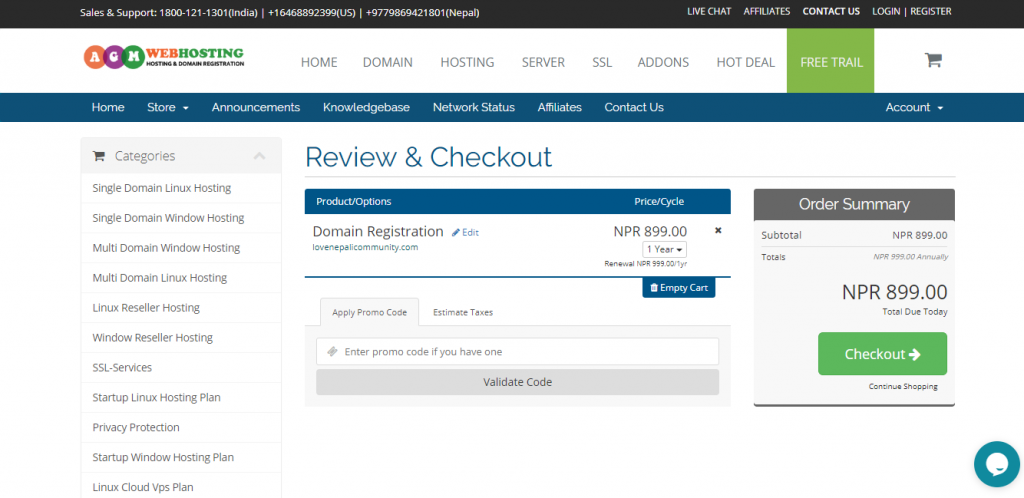 Registration Form: You can simply fill all the personal information and billing information and click 'Checkout' option.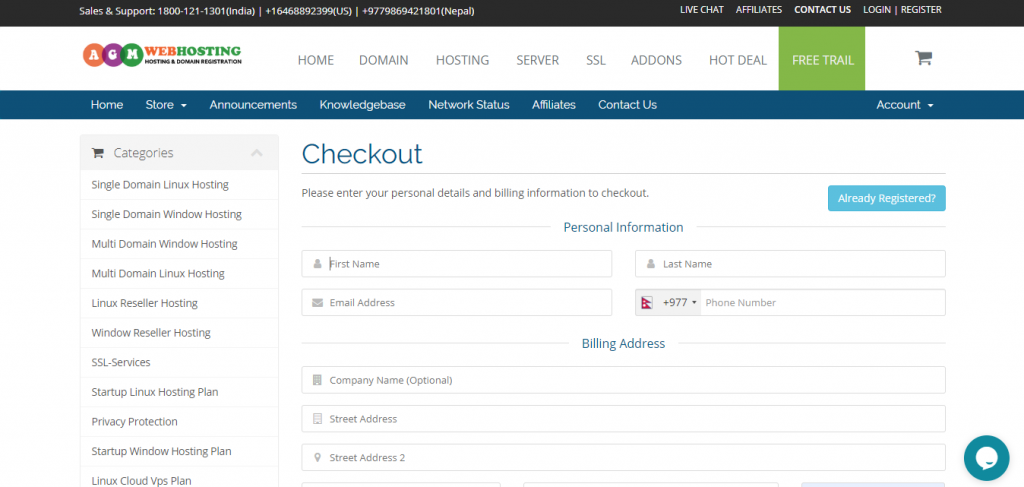 Make the Payment for your Domain Name: Now you're the owner of that domain name.
Congratulations!!!
You just have registered your domain name.
Buying domain name in your own can be overwhelming — especially if you've never done it before.
Hopefully, this in-depth guide has been able to help you register domain in lot easy manner pointing you in the right direction.
And if there's any other easier way to buy domain name in Nepal, let us know about it in the comments below. I will be happy to hear from you.
Please do share if you find of any help!