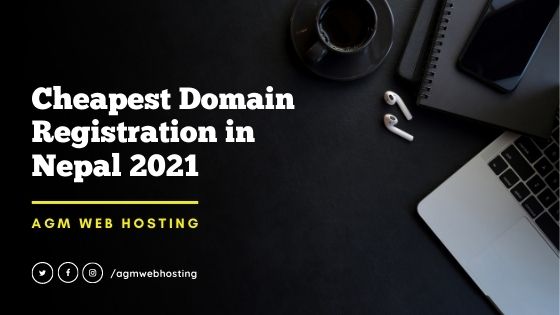 Looking for the best and reliable domain registrars for cheap domain registration in Nepal?
Wondering what is the best website for instant domain registration? Look no more. In this article, you will discover the cheapest domain registration websites in Nepal.
Want to jump straight to the answer? Agmwebhosting.com is the best and cheap domain registrar in Nepal. It's always goes above and beyond when it comes to offer value for money you pay. Worried of not getting good and instant support. Fret not, you'll never regret this decision of picking AGM Web Hosting as your cheapest domain registrar as they offer 24/7 exceptional customer support via phone calls, email, ticket or Live chat.
At AGM WEB HOSTING, our 3 prime Core Values: delivering WOW through services, delivering HAPPINESS and providing INSTANT SERVICE are more than just words, they're a way of helping you achieve more. We always believe that companies with good ethics, strong culture and a higher purpose do good in the long run. As we continue to grow, we always strive to ensure the culture remains the same among our enthusiastic executives and lovable customers who are supporting and believing in our services. It's time to EXPERIENCE SOMETHING AMAZING ; something like NEVER BEFORE.
As you might be already familiar of domain importance for your business's Online presence as it provides your website a unique name and helps users navigate to it over the internet. However, cheap domains can be hard to come by these days, and some of the best domain names are already taken.
You must consider things like cost, user experience, support, security, etc. while going with cheap domain registration in Nepal.
How to Choose Cheap Domain Registration in Nepal?
Know why AGM Web Hosting is the 'best domain registrar' as it provides top-level domains at a minimum price ensuring the best security in the town.
Additionally, here are some other factors to consider when selecting the cheap domain registration in Nepal.
Instant Domain Registration: Isn't it frustrating to find that your ordered domain is not available? Someone else has already paid and activated before you do? Not anymore! With AGM Web Hosting, you can activate your domain immediately making on-site payment.
Domain Transfer: Frustrated with current domain registrar and looking for good and cheap domain registrar to transfer your already owned domain name, you can easily transfer your domain name within minutes to maximum 7 days depending on your previous domain registrar.
Domain Renewal: AGM Web Hosting provides you not just the cheap domain registration in Nepal also it provides with instant domain renewals at a low cost.
Customer Support: Offering excellent customer support and wowing customer through services is their way of doing business. Their ready-to-help representatives are available 24*7 to assist you with all you need. Don't be afraid to make a move as you never know till you try. Invest on reliable domain registrar for your hard-earned money.
Pricing: All the top-level domain registration, renewal, and transfer pricing are too affordable. In addition, you can avail of DNS Management and Email Forwarding with no other additional fees associated.
Payment: They accept every popular online payment gateways for the billing purpose. You can make the bill payment via eSewa, Khalti, IMEPay, NIC Asia Debit Card, Fonepay, ConnectiPS, Paypal or Bank Transfer etc.