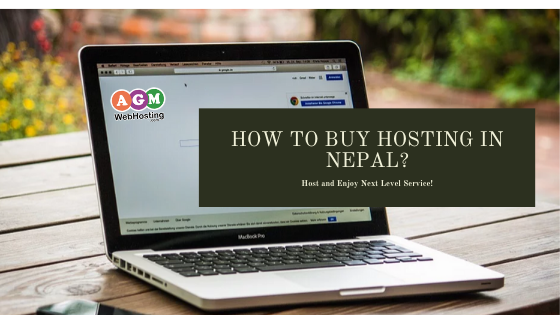 Learning how to buy hosting in Nepal?
The biggest risk when opting for a web hosting in Nepal is the support you can expect when your site goes offline and resolution time. You want to host your site to go quickly online ensuring your site's online presence, but any misstep could extend your misery.
Thankfully, however, many of the top hosts in Nepal will make it even easier for you — and provide tools that make your site runs smoothly all the time. I'll share my recommendations and step-by-step guides for buying hosting in Nepal.
Many new bloggers and business owners usually make the mistake of buying hosting from unreliable hosting companies, and they regret this misstep later. In this step-by-step guide, I will share why you need to buy hosting and domain services from AGM Web Hosting.
Is AGM Web Hosting Reliable to buy hosting in Nepal?
These days, most shared web hosts in Nepal offer a free domain name registration to entice new customers into their business. Not every provider, however, carries a reputation of the largest domain registrar supporting hundreds of thousands of domains.
Yes, I'm talking about AGM Web Hosting, a reputed web host in Nepal. Get excellent support service along with affordable domain registration and web hosting services.
As the success of any business begins with the great web hosts — so let's go over the best in the business to host your website.
The Step-by-Step Guide to buy hosting in Nepal
If you're setting up a website or powering your personal blog, you will need a reliable web hosting company that provides market-leading value for money, look no further than AGM Web Hosting.
Please follow the below steps to buy hosting in Nepal as outlined here:
To begin, head over to AGM Web Hosting Homepage. This will take you to the page that could look something like this: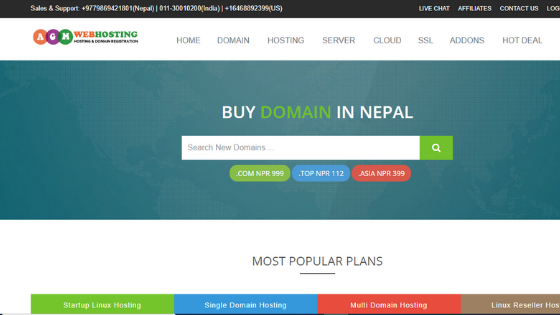 Now, you're offered with the various packages for you to choose from, but here are my recommendations: Standard Plan – Startup Website, Professional Plan – Business/Corporate Website, Platinum Plan – Ecommerce Website.
Click on "Order Now", and from here, the remaining steps will be very simple.
Now in the choose a domain section, you can register your new domain name in case if you don't have any or else you can tick on the I will use my existing domain name and update my nameserver. Make sure you put the domain name correctly. Then enter the Use button.
Simply click on the Continue button for further process.
Then, Enter the Checkout button in the review and checkout page.
Lastly, you're asked to fill up the personal details and billing information to checkout. Once, you're happy with all your details, please choose one of the payment method you prefer and make due amount.
Congratulations! You now have purchased hosting packages.
Make sure to check your registered mail address, as that is where all your login and hosting information will be sent.
Also Read: How much domain Registration Costs in Nepal?
Ready to Buy Hosting for your Business Website?
If you've followed this entire guide, you've probably realized it's not that difficult as you've previously thought to buy hosting in Nepal.
Yup, it isn't.
So you might be wondering, "Is it really worth to go with the AGM Web Hosting to host your site?" Good question.
Truthfully? It depends.
A great provider doesn't speak for itself rather their services/products surely do. Having a moment to take a look at AGM can thank you later for your one big good decision that you ever make.
Did you use this guide to buy hosting plan? Did you get stuck somewhere during the purchase process? Let me know how it helped you in the comments below!
Also Please do share if you find this guide useful!
Learn More About Buy Hosting in Nepal(Expert's Guide)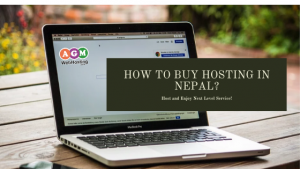 This guide simply helps the beginners to buy hosting in Nepal from one of the market leading hosting company - AGM Web Hosting. Enjoy Reading and Get Insights on How you can Buy Hosting in your own with this easy Guide.