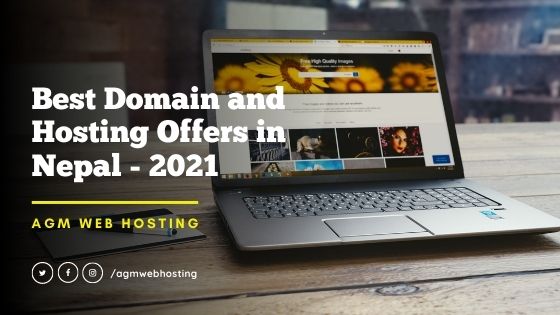 Domain and Hosting Offers in Nepal – AGM Web Hosting! Avail Huge Discounts and See all latest offers Now.
Introduction:
AGM Web Hosting is a team within agmwebhosting.com who loves improving customer buying experience delivering expectional service helping them grow their business. We invite you to explore the ways AGM Web Hosting can help you in your journey to bring your business online.
Buy
Domain and Hosting at AGM Web Hosting and Get and your services activated instantly.
We're the largest domain and hosting company in Nepal delivering happiness with domain and hosting services. Over the years, we assessed needs and always provided high quality yet budget-friendly services online. We are proud to be announced No 1 retail Icon by Times Business awards for consecutive 5th year.
Since 2013, AGM Web Hosting has mastered the art of solving frustrated customers requirements offering smiles in returns with their awesome service. Looking for reliable domain and hosting service provider? Look no further than AGM Web Hosting. Learn how our ready to help team can help you get started with your online journey.
Trust
Some domain registrars offers an affordable domain price. Some want to be the host you can rely on without any frustration. Others try to be reliable. At AGM Web Hosting, we strive every day to be all three, backed by the excellent support team in the industry. Being leading domain and hosting provider in Nepal is never easy and sustaining it for last 8 years is a testimonial to the trust you have on us. We follow no shortcuts in offering you with only the best.
Value
We are here for last 8 years understanding your needs, owning problems and working on constructive feedback to deliver you what you're seeking for. For us, marketing is all about offering values to you. We're pretty sure that in this crowdy world, we're not going to get the chance to get people to remember much about our brand and products. However, we always strive and be clear on what we want you to remember about us.
Experience
Smiling Companies and Happy Customers. We have always put customer experience in top priority and ensure that experience is long lasting. With various hosting and domain offers, we have something for everyone!
Domain and Hosting Offers in Nepal | AGM Web Hosting
Domain Offers in Nepal 2021
Registration: Buy .COM Domain at Just NPR.999 only at AGM Web Hosting. Please check here all top TLDs domain pricing. All domains can be instantly registered with us making onsite payment.
Transfer: You can transfer your .COM Domain to us with one year Renewal at Just NPR.999 Only. Transfer NOW!!! You Just need EPP Code or Authorization(or Auth) Code or Domain Secret and Domain Lock Removal or Theft Protection Disabled to successfully process your domain transfer request to us. The transfer period usually varies from minutes to maximum 7 days depending on your current domain registrar.
Renewal: The renewal price is Just NPR.1199 only for .COM Domain. However you can also avail some great cashbacks on various occassion on monthly basis via different online payment gateways.
Hosting Offers in Nepal 2021
Save upto 50% on Hosting Plan
This Year AGM offers extra 10% off on Single Domain Linux Hosting Plan. We have four different hosting plans for Single domain Linux hosting and in the midst of this pandemic, it has become super affordable with additional huge discounts. Also, you can avail the discount offer not only on the Single domain Linux Hosting, but also on Multi Domain Hosting and Reseller Hosting Plans. And the Coupon Code is AGM10 to claim the same offer and is valid only till 31st May, 2021. So, why to waste more time to avail such an exciting offer. Buy while you still can.
Happiness comes when you save some money getting quality service at low prices available exclusively at AGM Web Hosting. Get Domain + Hosting + SSL Certificate at just NPR.1798 with this years AGM Combo Offer.
NPR.1000 Instant Khalti Cashback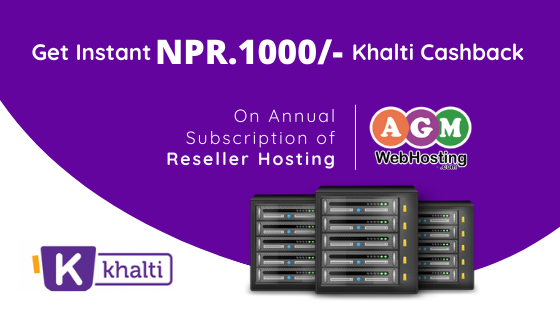 Buy AGM Web Hosting's Reseller Hosting with confidence. At this time of the pandemic, paying reseller hosting bills is much easier with Khalti and avail instant NPR.1000 Khalti Cashback on annual subscription of any reseller hosting plan! Enjoy huge savings and purchase while you still can. Hurry up!
Effective Till: May 31, 2021
Also, check: Domain Registration in Nepal | Web Hosting in Nepal