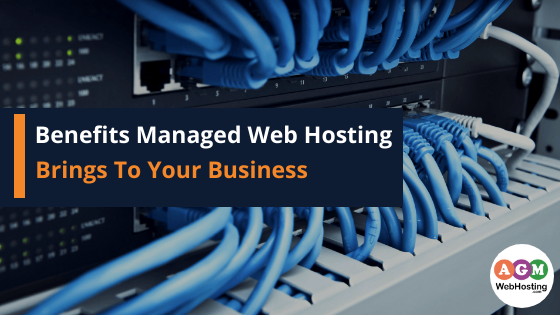 Do you focus for hosting management too much? You might be probably wondered about how business will grow with the managed hosting plan? Right!? Isn't it going to cost you more penny and nothing more than that? Absolutely, yes and no! Yes, in the sense that, If you're going with managed hosting, it is likely that it costs you little more than for normal hosting plan range. No, to relate it consider the long term benefits it offers claiming it to be worth the investment in the long run. Your host handles all the technical aspects of hosting, server monitoring, security and database support providing for you the maximum floating time to focus more on business growth. So, what is managed hosting? Managed hosting services simply refers to the hosting plan that is administered by the hosting provider, provides optimum database support and handles issues related to the server. Thus, when you're owning managed hosting plan, you're not merely paying for the hosting plan, but also for the management that you wish to offer for you by hosting company.
Six Benefits Managed Hosting Brings to the SMB Firms
It is certain that sometime you might be thinking of probably you are just enough to handle the entire server things on your own. However, if you prefer not to take a burden of server maintenance and debugging, you cannot comprise the benefits of managed hosting services.Wondering what benefits can managed hosting brings to the small businesses? In this blog, I'll share the six benefits you can have if you choose to go with the managed hosting plan instead of going with the self managed solution.
Efficient Server Monitoring
Stronger Security
Server Configuration and Management
Data Backups
Expertise Support and Flexibility
Lower Operational Costs
1 – Efficient server monitoring
Server monitoring is actually the process of scanning the servers in search of any irregularities, vulnerabilities or potential failures that the server may experience ensuring little or no impacts on the business productivity. Thus, it helps your site to work efficiently and optimally round the clock. On the other hand, downtime issue may lead to huge loss of time and money affecting the business. Thus, managed hosting solutions allows professional system admins to ensure higher server up-time and network availability. What's more, as it is done in a timely fashion, it helps to fix the major issues or service disruption before they get developed. Whereas, if you prefer to go with the self managed solution, you need a special set of knowledge or hire a tech team to monitor and administer your servers which might significantly influence on your operational charges.
2 – Stronger security
Obviously, security is the considered most important and comes under top priorities when dealing with the critical data and information of any organisation and large complex business firm. Here are some crucial security measures that the managed hosting providers will run on the standard physical data centre.
Virus Scanning
Security audits
Spam Filtering
Firewall Configuration
Updates of the Operating system
Therefore, managed hosting solutions allows you to enjoy stronger security with the aid of various advanced tools and system engineer's greater expertise to resolve the security issues. What's more, they can also detect potential failure and vulnerabilities before the servers get attacked.
3 – Server Configuration and Maintenance
Managed hosting offers expertise individual to ensure system is running optimally and database administrators too in order to monitor health and performance of the databases round the clock ensuring they are functioning optimally. In case if your website will get much traffic because of the linking from a more popular or trending website, managed hosting can help you save from the potential issue with server monitoring and avoid irregularities and potential failures and give your website the more data transfer space to keep it optimally functioning at the time web traffic starts flooding in.
4 – Data backups
Good data backups can ensure better recovery of the data when it gets hacked or crashed by the online criminals. It is likely that most of the website owners who usually prefer to perform data backups manually often fall out to maintain the backup and anticipate the time when the backup is most essential and might lead to severe results affecting the business. Thus, at such exteme cases, managed hosting can help you ensure quick restoration and recovery of the data.
A business, which is losing data might be costly in money, time and most importantly, in customer's trust. Thus, it is crucial all the personal and organizational data and information need to be backed up and stored securely avoiding unintentional output. Managed hosting solutions possess more physical and technical capabilities to carry out backup and restore information correctly.
5 – Expertise Support and Flexibility
This is the another side of coin. Managed hosting solutions possess qualified, expertise support and professionals on hand, thus, they are there to support 24/7 mostly via live chat, support ticket or telephone in case if there arise issues regarding servers and other management. In addition, expertise support also enhances greater time for you to focus more on the growth of your business. Flexibility actually is the core to the identity and value proposition for any hosting provider. And therefore, they offer service in a way that best adapts to the customers who wants to run IT solutions and want service providers to react them in good time ensuring hosting platform continues meeting their requirements.
6 – Lower Operational Cost
Many small business firms work on tight margins and that's why the business owners always look for ways to minimize their operating costs for their business and generate more revenue instead. So, how managed hosting is going to help you reduce operational costs? Well, it does not let you hire system admins, database professionals and specialist staff to monitor the servers and handle issues related to server management. Most importantly, you have professional support implies that you've already saved company's money resources and time in the regard that tech adept individual from server side themselves will support critical IT solutions without having to compromise on suitability, control or the quality of their offering and resolve it without affecting your traffic.
Key Takeaways
Now, I suppose you have gained a deeper understanding on what benefits managed web hosting solution brings to any small to medium sized business firms. Further, I believe your concern regarding more costly when you prefer to go with the managed hosting now have resolved with this blog. Always remember, the benefits of managed hosting outweighs it's disadvantages. If you are using self managed solution currently, it's time to rethink of managed solution and get started.
Phew!
Have a good day!