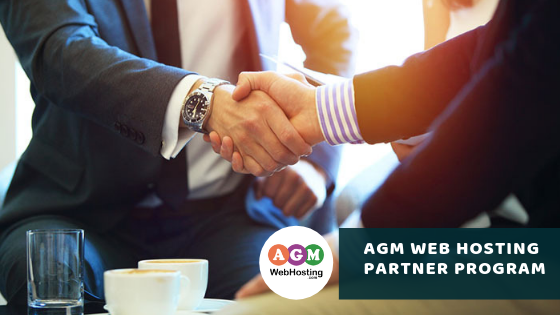 Have you ever heard of this saying – 'success revolves around an open strategy'?.
Why?
An open strategy unlocks doors for us to connect our key services and products with companies that add additional value while innovation stalls in a closed system. What's more, thinking big becomes much difficult when we're not able to keep pace with the rapid innovations and changing market trends.
Thus, we believe that with the right program, anyone has what it takes to become a wise investor and thriving business owner. And we have the programs to reap you the major benefits from AGM's 'n' number of services/products. Every client such as VARs(short for value added resellers) or managed service providers, will meet the best platform and can avail lots of functionalities at AGM Web hosting. In addition, we have various partner program slabs with different benefits and requirements. In order to fully leverage the value of a partner program, take a look at what we have coming up here.
How Partner Program offers you benefits?
You are likely to be thrilled to know these benefits you could avail joining our partner program. Also, we believe we've put the right structure in place in order to support our partners' success, while recognizing the unique value each partner makes thus delivering best customer value.
Our Partner Program is all about building a rewarding relationship, built on mutual trust and respect, while generating mutually beneficial revenue streams. Great customer experience is our primary business focus and offering best solutions at much affordable price, it's what we excel at, and you and your clients will enjoy the benefits. AGM's partner program is unique in the hosting industry. It's free to join, and if you qualify for the partner program, then you will get a discount in the range of opportunities offered for lifetime as per the partner program slab.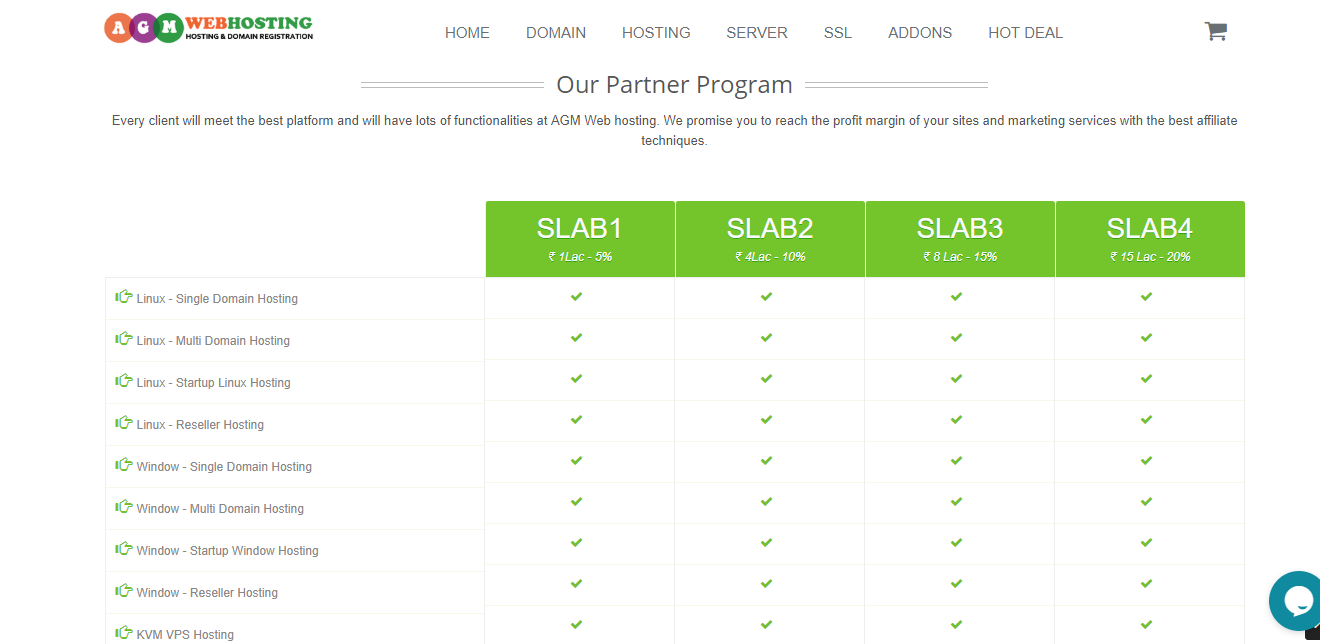 To put it simply, let me explain you with examples. For example, you have spent 15 Lakhs Rupees in AGM, the next time you have come to buy some more domains, hosting solutions and want to create a website that might cost altogether, say, 1 Lakhs Rupees in total. As you've already met SLAB4 AGM Partner Program conditions, you could get 20% of the discount. It means you could save 20 thousands rupees and having said that it's not huge rather it's grand saving! Isn't it?
Moreover, the company aims at forming proactive partner interconnections and disseminates information regularly so as to keep the partners abreast of company goals and innovative plans. AGM Partner spread across the world collaborates to offer customers the best possible solutions. What's more, the company also provides aggressive profit margins and offers attractive schemes: making it convenient for partners to generate more revenue.
Our program targeted at resellers and are designed to engage and reward partners who provide value add services and extend AGM's reach into the marketplace. It is a value-based program with focus on our partners' profitability, success. Further, requirements are structured to assure customer success while eliminating needless burdens on our partners. Also, the slab requirements reflect our commitment to enable our partners to deliver solutions to the mutual customers and, in turn, drive higher customer satisfaction.
How you can Join AGM Web Hosting Partner Program?
If you're ready to take your business to the next level and saving huge sum of money, then this program is for you. Wondering how you can join AGM Partner Program, Right? Never fear, let me guide you how you can join.
Get started here:
Click here to join AGMWebHosting Partner Program »
Then Click on Signup Now button whichever you prefer to go with on the below of each four slab.
Once you fill up all the details, you will be having a login ID and credentials to enter our exciting partner program.
Note: If you're new to the AGM, then we request you to kindly invest according to the slab so that you will become eligible for the benefit. And for the existing customer, if you have already spent minimum 1 Lakhs Rupees in AGM, then simply signup for the Partner Program and you're already made eligible for the 5% discount in every investment for the number of services by AGM.
Join the AGM Web Hosting Partner Program and expand your business opportunities with our vast reserve of resources, programs and incentives.