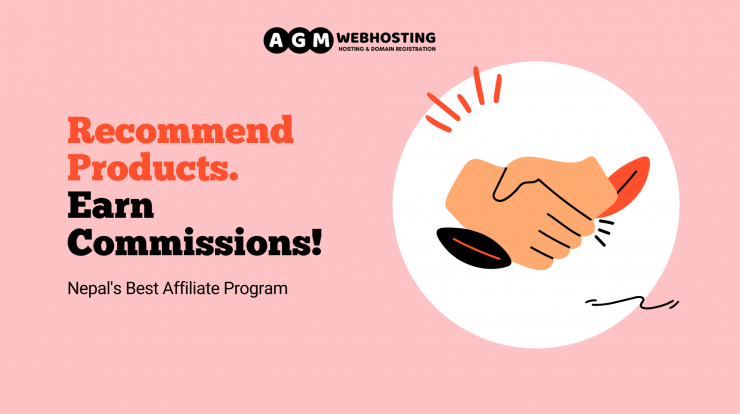 Join Our Affiliate Program and Start Earning Money Today.
It Will be the Easiest Way You Get Paid All Year!
Earn up to NPR.160 Per Sign Up!
Not only we put more money into your pocket, for the more new customers you send our way but also for every valid clicks.

Web developers, app developers, small business owners, online news portal owners, and bloggers can become entrepreneurs with our Affiliate Program. With no cap to how much you can make, you can become an AGM Web Hosting Affiliate in a few clicks. Your reward potential is unlimited with us. Get your payout through eSewa or Bank Transfer after you meet the threshold amount of NPR.1600!
AGM Web Hosting has the highest commission rates in the hosting industry with our tiered package!
What is AGM Web Hosting?
AGM Web Hosting is one of the leading domain registration and web hosting company in Nepal. The company is highly acknowledged for their excellent customer service and its cheap plan fulfilling the needs of every bloggers, startup companies, individuals, corporates, large companies.
Trusted by over 5,00,000 users
Cutting-edge service with a wide range of audiences and a leading hosting company in Nepal.
99% satisfaction rate
If you aren't already involved in affiliate marketing elsewhere, it's time to think about joining this profitable money stream and make 2022 a success with us. Each services/products are affordable and reliable too.
Over $1,000,000+ has been paid
Get your NPR.160 instant revenue for your of recurring revenue for every sign-up you refer.
AGM Web Hosting's affiliate marketing program
Welcome to one of the largest affiliate marketing programs in Nepal – the AGM Web Hosting Affiliate Marketing Program. Our affiliate program helps content creators, publishers, individuals and bloggers with a qualifying website or mobile app can monetize their traffic. With thousands of products and programs available on AGM Web Hosting, affiliates(or associates) use easy link-building tools to direct their audience to their recommendations and earn from qualifying purchases and programs. Commission income for qualifying purchases and programs differ based on service category. Learn more.