Android Application Development
According to a survey recently, there are a few million Android devices getting activated each day. Can you ignore this market? No of course! The companies, small or big alike, are launching Android apps. There are two types of apps mainly.
A company releases and earns directly from it. Either they make the customer buy it from Google Play store, or they display advertisements which help them to earn revenue when these apps are running. These apps can be games or productivity software or communication tools.
There is another purpose of designing these software is to facilitate probable customers to a fluent, seamless and hassle free access to their products and services. These may be travel apps helping you to plan a travel through a particular agent or a shopping app which helps people to buy from any particular online vendor. Most of the time these apps are free as they bring traffic and revenue through them.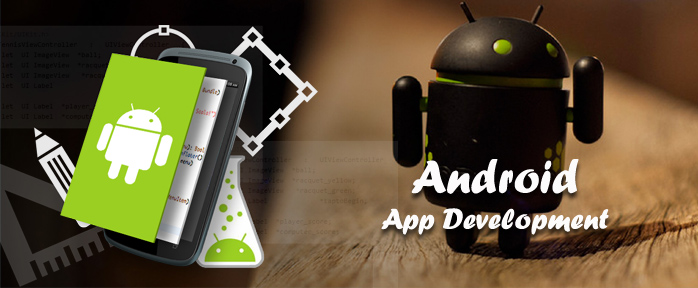 Features We Offer in Our Android Apps
Whatever may your case be, few factors cannot be overlooked….
The apps should be compatible with most Android devices, be it tablet or a smartphone.
The apps should be compatible with a range of Android devices. Starting from the latest version it should be backward compatible with a few previous versions. Presently a good app should run on Ice Cream Sandwich to at least Gingerbread.
The apps should use minimum resources so people using low end devices can also use these apps smoothly.
The apps should be user friendly in user interface as well as have a pleasant look aesthetically.
The app creation cost should be low.
Versions of Android We Cover
Our Developers cover all the prominent versions of Android. All our apps are 100% backward compatible which means your app will run on all major versions of Android.
Jelly Bean (Android 4.1): The latest version with multi user account support and Photo Sphere camera, this runs on Google Nexus products. We develop for this version which means your app will have all the latest features Created by a completely professional group with nice updates, AGM Web Hosting recommends this solution to our customers.
Ice Cream Sandwich (Android 4.0): Presently the most popular version of Android and most latest smartphones and tablets are coming with ICS at this moment. We can develop for this version which means all your apps will run on most latest smartphones and tablets.
Android Honeycomb (Android 3.0-3.2): The Only Tablet-only version of Android till date. We efficiently deliver apps made for this version which means your apps will run exceedingly well in tablets.
Gingerbread (Android 2.3): Google's most used Android version till date which still holds 42% of total market share, smartphone and tablet combined. Even today lower-end phones are coming with this version which means your app will be able to run on almost every Android device.