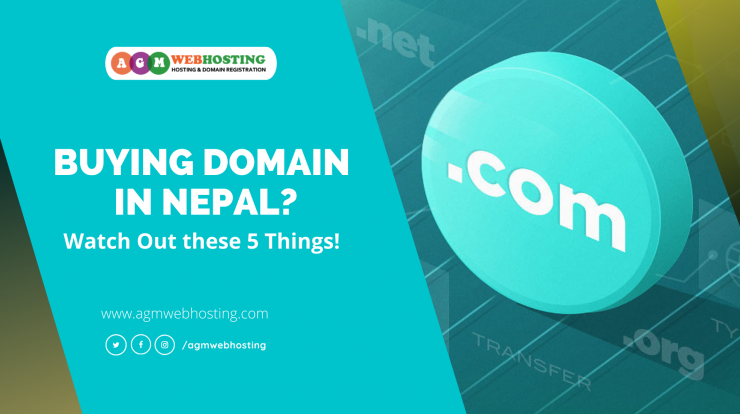 Buying a Domain Name in Nepal?
Take a look down on various websites AGM Web Hosting or others and you'll notice various options for the same domain name. Each may vary slightly in price, service quality, domain registration(or activation) time, customer support, but the prices are very similar. This has been a growing trend over the past decades and it highlights the significant increase in competition in the domain and web hosting industries. To be successful today, you need to find cost-effective ways to register, renew, transfer domains, while ensuring you're getting high-quality support, instant domain activation.
In addition, the domain registrar faces numerous other challenges, including uncertain dollar price increment, changing standards, and regulations. Make sure your domain name is in good hands for years to come. In this blog, we'll dive into some of the most pressing challenges while buying a domain names in Nepal.
5 Common Challenges While Buying Domain Name in Nepal
Domain Registration services come with its own set of unique challenges you won't find easy in every domain registration company in Nepal. Whether domain registration or renewal – if you're one of the thousands who are newbies in this online world – you can know what to look out for in before buying a domain name in Nepal, following these few steps.
Domain Registrar
A domain registrar is a company that reserves your domain name from the main registry certified with ICANN certified. All domain registrar might not be fully legitimate.
Registrars may vary in domain price, services offered, ease of use, DNS management features, privacy protection and more. Some domain registrars may offer seemingly low-cost promotional domain pricing, how the renewal rates might surprise you. Always prefer registrars with winning culture and consistent domain registration and renewal charges.
2. Delay
It takes within seconds to 24 hours maximum for the .COM domain registration. Whereas it may take 24 to 72 hours for the .COM.NP domain name registration. Domain registration can take anywhere from 24 hours to 3 months, however, a majority of .com domains can be registered within a minute with AGM Web Hosting!
3. Transfer Fees
The current 1-year renewal price, which should be paid during .com domain transfer, is NPR.999. Our regular renewal price for .com domains makes NPR.1199. You can check our pricing here.
You can compare prices among them before buying. If you are lucky, you can even get a good domain name free for the first year!
People frequently asked this question to me – I just bought a .com domain 7 days ago which didn't come with DNS record for me to sign up G Suite. Can I transfer it to your company – AGM Web Hosting? Unfortunately, as per ICANN regulations, a domain that has been newly registered or transferred from any registrar to another within the last 60 days is not eligible for transfer. You will need to wait next 60 days after the registration date in order to process your domain transfer request to another registrar.
4. Domain Pricing
If you are on a tight budget, buying an affordable domain name can be a solution. For example, you can choose .xyz instead of a .com TLD — most registrars such as AGM Web Hosting offer less common extensions for much less, as low as NPR.199/year.
When it comes to opt domain extensions or TLDs, we always recommend our users to use .COM because it's the most popular one. If you just want to purchase a domain name and activate it instantly, then we recommend using agmwebhosting.com as your domain registrar.
5. Differentiate Support from Sales Traps
Some registrars don't have support staff, but instead have salespeople who are trained to get you to buy domain and unlimited hosting services(In actual it's not) you might not need, while pretending to offer best customer support. Read Google reviews, social media reviews about your preferred registrar's support team, or try calling their support line before buying the services. Look for courteous and professional service provider instead of money-seeking registrar. With careful R & D before choosing domain registrar, you can side-step some unfortunate traps and ensure your domain—and your online business—are in good hands for years to come.
Buying a Domain Name – AGM Web Hosting | NEPAL
At AGM Web Hosting, transparency, your site's privacy, and data security are part of our mission. If you're looking to compare your options, we invite you to take a look at our domain plans(registration, renewal and transfer).
Ready to get started with a registrar you can trust? Start your domain search now at nepal.agmwebhosting.com